The story of the buildings on the west side of Wayne is set in two lots of Cottage Park: Lot 8 is 50 feet wide and runs along Wayne 175 feet from Newton south to the alley. Lot 9 is the same width and runs adjacent to Lot 8, sharing its eastern boundary with Lot 8's western.
In February 1909 MB Harlow, the developer, sold the empty Lot 8 to John Massey, who turned around and sold it to investor John Normoyle three weeks later, who in turn sold it to Helena Elliott in September 1910. Two houses were built, the larger two-story one that is now 1404 Wayne, and a smaller single-story that is now gone, but occupied what would now be 1408 Wayne. Unfortunately, we do not know whether it was Normoyle or Elliott who built the houses; she took out a $1,400 mortgage at the time, a substantial sum, but it is not clear if it funded the purchase the land with two houses from Normoyle, or if it was a construction loan to build them herself. In any event, the houses were up in 1911. In preparation for splitting the property she refinanced with two separate mortgages, one of $800 for the northern half and one of $1200 for the southern.
The Merchants at 1408
In August 1912 Elliott sold the northern half of Lot 8, and the smaller house, to Benjamin and Laura Weitzman, who assumed an existing Elliott mortgage and took one out themselves to pay for it. They defaulted two years later and it was sold at auction to Harris and Esther Levy, real estate investors, in January 1914 for $1,051. They appear to have rented it out until July 1920, when they sold it to Maurice and Mary Kelly, who then promptly turned around and sold it to Maude Monroe in December 1921, and then she sold it to SM Anderson in June 1924.
Samuel Mark Anderson, a short and slim man, had been born in April 1899 in Ellicott City and moved to Alexandria to try his hand at retail grocery. He started out as a clerk and on the last day of 1923 married his wife Helen Maria. Six months later he realized his ambition, buying the northern half of Lot 8 with its single-story house, taking out two $1,500 mortgages with Burke & Herbert. He used a portion of that money to expand the house out the back all the way to the property line and to north. This now served as a grocery store in the front and the Anderson house in the rear.
It must have gotten crowded in the small house portion, for daughter Frances joined the family in February 1927. In fact, the close quarters probably contributed to Helen's to file for divorce. Mark contested it, but lost and the decree was entered in October 1936. Interestingly, Frances stayed with her father.
The divorce seems to have spurred Mark to push harder on his mercantile dream. It seems likely that the original portion of the building, which had not been built for commercial use, would have been showing signs of wear. In 1937 he demolished the old structure and built a new, two-story brick structure with the store on the ground level and home above. He also took the opportunity to reorient the store so that it now faced the busier Linden (now Nelson) Avenue.
Anderson's Market continued to operate through the 1940s, although Mark gradually retired from day-to-day operations as heart disease and degeneration of the liver took their tolls. He finally passed away in February 1950, aged only 50 years.
His will left the property to his brother in trust to be held until Frances, by then married to Russell Sutton, turned 25. Burke & Herbert took over trustee duties, transferred the property to her in March 1954, and in June 1955 she sold it to Francis and Dorothy Tooker, ending the run of the Andersons and their stores.
In the meantime the bank had been either renting the store out or collecting the profits and it had continued to operate, although as the Commonwealth Thrif-Tee Market. The Tookers renamed it to the simpler Commonwealth Market and they operated it for two years, selling it to John Fentress III in mid-1957. He turned around and sold it to his father, John Jr, in August 1959. The days of the neighborhood market, however, were numbered. Sometime thereafter it was converted to a house, which it remains.
Mark Anderson's second store, now a residence at 117 E Nelson.
The Giles house at 1404
While all that had been going on Helena Elliott had sold the southern half of Lot 8 to E Gorman and Ida Ridgely in August 1913, it being noted that the lot was "improved by a frame dwelling with modern improvements", this being the larger of the two houses originally built (today designated 1404 Wayne). The house was 23 feet across and 29 feet deep. It had a living room, parlor, dining room and kitchen on the first floor, and three bedrooms and a bathroom on the second. All the floors were hardwood. The house also had an unfinished basement with concrete floor. Interior walls were plaster and the heat hot-water radiator.
Gorman was a tailor at the Star Clothing House and they stayed there about six years, selling it to James and Mary Wright in September 1919 for about $3,800. The Wrights expanded the property into an L-shaped configuration by buying all of Lot 9 in February 1920 for $100 cash and assumption of a $400 mortgage.
There then followed a rapid and complex series of transactions that in the end produced a deep lot for the larger house comprising the southern halves of both Lots 8 and 9. The Wrights sold the house to Lee and Lottie Garth in December 1920 and Lot 9 in 1923. The Garths then sold the southern halves of the two lots to Arthur & Christine Giles in August 1928.
1404 Wayne in its original configuration in 1971, although with the unfortunate addition of Bricktex siding.
Arthur Giles had been born in Waynesboro in Augusta County in December 1894. In 1916 he enlisted in the Virginia National Guard, although he moved to New Jersey the next year to work for the DuPont Company. He was called up for World War I with Company D of the 112th Machine Gun Battalion of the 29th (National Guard) Division. The division, presumably including Sergeant Giles, arrived in France in June-July 1918. There it engaged in brief but intense combat up to the armistice. He was discharged in May 1919.
By 1922 he had moved to King Street in Alexandria, starting out as an assistant baggage agent at Union Station up the street. In 1924 he married 19-year-old Golden Christine Clark, who gave birth to daughters Jean in 1925, and Gladys Elizabeth (also known as Betty) in 1928. With the family expanding they moved to Harvard Street, and then, in 1928, bought the Garth house on Wayne, where daughter Lois was born in 1929 and son Arthur Jr in 1932.
Arthur continued to work for the railroad, latterly as a ticket agent, while he and Goldie raised their family. He passed away in March 1949, leaving Goldie, Arthur Jr, now also a railroad clerk, Betty and Lois in the house.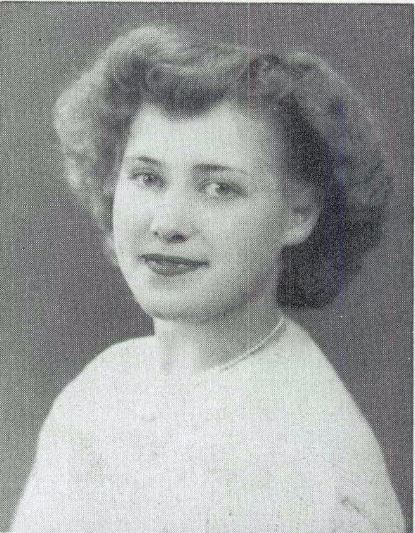 Jean had been the first to leave the house, marrying Talbott Paul Lucas, a 21-year-old service station attendant in November 1943 and moving to the apartments at 212 E Glendale. She gave birth to Arthur Lucas in August 1947 but that could not save the marriage. In September 1951 they separated, with Jean moving back to the family house on Wayne. From there she worked as a bookkeeper at Citizen's National Bank. She remarried in March 1960.
Betty, who had worked for C&P telephone in office and drafting jobs, married William Devers, a steel worker, in August 1951 and both took up residence in the Wayne house. By 1958 Betty had been promoted to a department supervisor but the marriage was unraveling. She and William were divorced in October 1961, with Betty remarrying in August 1962.
Lois worked as a bookkeeper for Citizen's National Bank and in 1952 married Walter J Gander a branch manager, moved to Annandale and had two boys, John and Brian. She passed away of cancer in April 1965, age only 35.
In August 1962 Goldie sold the house on Wayne to Betty, but she chose not to live there, instead selling it to James and Virginia Hall in November, closing out 34 years of undoubtedly emotional Giles tenure. Goldie passed away at age 90 in 1994 and was laid to rest in the spot that had been set aside for her next to Arthur in Arlington National Cemetery.
Lois in her 1946 senior HS photo