The house built by James Sullivan is a modest but handsome design of mixed construction. The first floor has exterior walls of concrete block made by Sullivan himself with a faux stone finish on the outside. The second floor is wood frame with composite shingles. It has a footprint 22 feet wide by 23 feet deep, with a 2x8 foot bay on the west side of the first floor. A concrete-block front porch 8 feet deep runs the full width of the house. A full width porch also crosses the rear of the house.
The house was built with a living room, dining room and kitchen on the first floor, and four bedrooms and a 3-fixture bathroom on the second. Interior walls were plaster and lath and all floors hardwood, with the kitchen covered by linoleum. There was also an attic for storage and apparently a unfinished basement.
Crowding notwithstanding, the house apparently worked out well, for when the Home Owners Loan Co decided to unload the property James and Mamie jumped on it. In March 1942 they bought the house for $4,500, of which $387 was paid in cash and rest with a mortgage. As the children grew they gradually left the house and at the end of twenty years the parents seem to have had it all to themselves, except for Harvey, a bookkeeper. By that point, with the kids almost gone, July 1962 they sold the house to their son Harvey with wife Catherine. James and Mamie continued to live there, with Harvey and Catherine, until Mamie's death in January 1972. In June 1972 Harvey sold the house to Michael and June Campagna and James passed away four years later. Two generations of Boltwoods had made the house home for 32 years.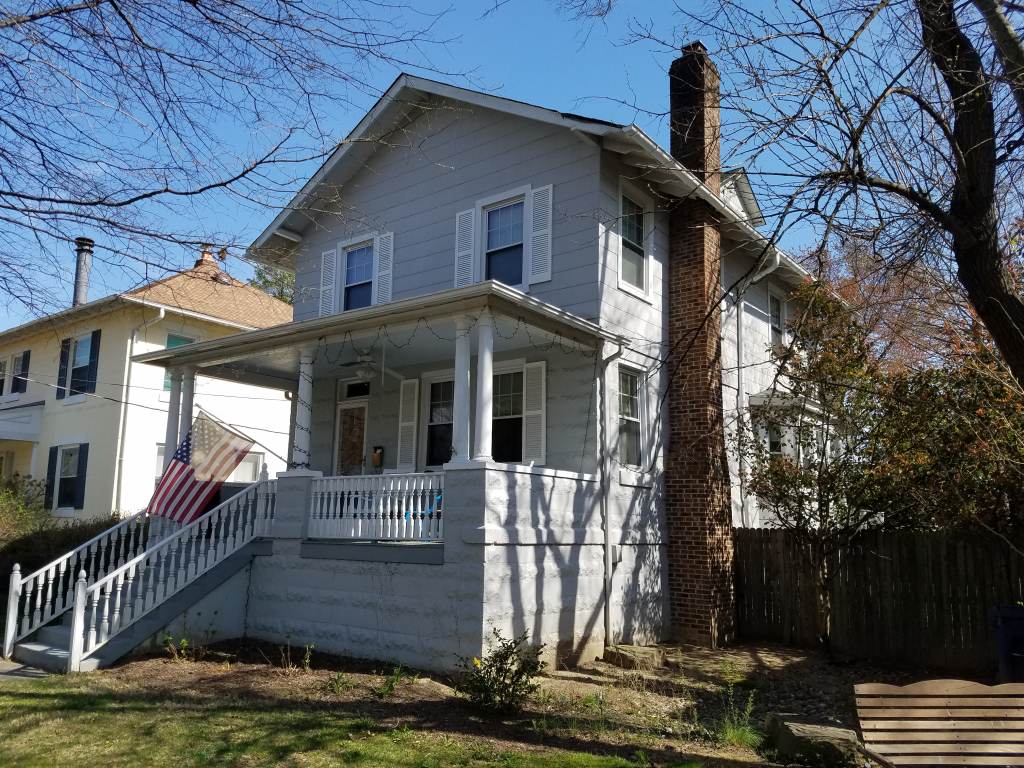 The Sullivan-Boltwood House (205 E Alexandria Ave)
An Unfortunate Start

James and Eleanor had little time in their new house, as it was quickly put on the auction block once they were adjudged bankrupt. The house was sold at auction on 9 August 1913 for $2,300 to Alan Hume, and there followed the usual wheeling-and-dealing of brokers and agents as each tried to make a little extra profit. Hume sold the property to CE Nicol on 18 October of the same year, who then turned around and sold it to John J ("JJ") and Pearl Haley, who took it subject to Hume's mortgage of $2,000 and took out an additional mortgage for $750, indicating a probable total cost of about $3,000.
JJ and Pearl lived in the City of Alexandria, where he ran a women's ready-to-wear clothing and dry goods store, her helping out with sales. They rented the house out as a source of extra income. Unfortunately, JJ was diagnosed with advanced cancer of the larynx in 1926 and went to a sanitarium in Charlottesville for hospice care, where he passed away in September of that year. Having paid off their first mortgage they had taken out a second one for $2,500 in May 1923 and when the depression hit Pearl found herself unable to make the payments. They had had a reliable tenant in Lester and Mary Swann, he a clerk at Potomac Yard, during 1925 to 1931. But then they left and in 1932 the building sat vacant with mortgage payments still due.
Following default, the house was auctioned off in March 1932 to Dobie Ernest Webb for $3,300, who turned around and sold it six month later to Abraham and Anna Steele, who assumed Webb's $3,225 in mortgages, soon paid it off and took out another mortgage for $3,816. The depression hit them as well, as they found it difficult to keep renters, with Thomas Grasso, a barber, in the house in 1935 but it turned vacant again in 1936. The Steeles defaulted as well in July 1936. The property was bought at auction by the mortgage holder, the Home Owners Loan Co, for $3,000.
Initially the company had little better luck in the tough market, renting briefly to Samuel Shifflett, an arborist, in 1936, then seeing it vacant in 1937-39. Finally, the house's fortunes turned around.
The House Becomes a Home
After all that it turns out that the central figure in the story was a relative latecomer, James Boltwood. Born in London in 1897 he emigrated to the US in 1913, arriving at the port of Philadelphia. He joined the US Army in June 1916 and was assigned to the 333rd Truck Company of the Quartermaster Corps at Ft McClellan, Alabama. While there he filed his petition for naturalization in September 1917 and it was accepted in May 1918, at which time he took some leave, traveled to Charlottesville and married local girl Mamie Lang.
In 1920 James and Mamie moved to Alexandria where he took a job as a welder. In 1940 James, then a guard for the federal GSA, began renting the house. The family had expanded greatly and by that time they had daughters Dorothy (born 1920), Frances (1924), Mamie (1928) and Margaret (1933) and sons Walter (1922) and Harvey (1931). All were still there when the family moved into the new house, and of the children only Dorothy was working, as a telephone operator. The bedrooms were not large and the girls' room must have been very crowded.
Harvey Boltwood in his 1949 senior photo at George Washington High School