The Nalls Houses (403 & 416 East Windsor)
Enter the Nalls'
In April 1870 20-year-old Benjamin William Nalls wed 21-year-old Elizabeth Jane Howdershell, known as Betty, at her home in Fauquier County. They took up residence on Columbus Street in his home, the City of Alexandria while he worked as a hardware clerk. Apparently successful, by the late 1880s he had moved to 181 Cameron Street and had his own hardware store.
.
The Original Family Home
Things kept going well and they decided to move to the new suburbs, buying lot 396 of the Del Ray subdivision in October 1894, making them one of the first purchasers in the area. They immediately put up a house, now the beautifully preserved 403 E Windsor. The house was rectangular with a footprint of 20x44 feet plus a 6x6 foot bay on the east side. It had a kitchen, living room, parlor and dining room on the first floor and four bedrooms and a bathroom on the second. Interior walls were plaster and lath and floors heart pine except the kitchen and bath. They added lot 397 to expand their property in August 1904. Daughters Lilly and Blanche had already moved out, but son Archibald J. (born February 1875) stayed until 1897 and daughter Elizabeth (born September 1879) lived there until her marriage in June 1901.
Benjamin gave up the store about the time he moved to Del Ray and took up as a bookkeeper. He was quickly active in his new community, including serving as clerk on the founding committee of the Del Ray Baptist Church. Unfortunately, he passed away in 1908 and Betty, by now alone, continued to live in their house until selling it in 1917 and moving to Norfolk, where she passed away in June 1927.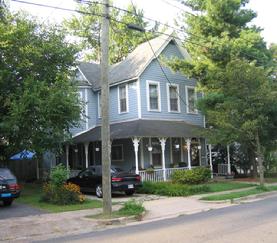 The Son on His Own

Son Archibald had not moved far. Back when the US declared war on Spain in 1898 he had immediately volunteered for the 3rd Virginia Infantry. They were still in the US when the short war ended, but not before Archibald was injured in a training mishap.1
On demobilization he joined the railroad as a watchman, then laborer, then clerk and married a local girl, Ethyl Margaret Varney, daughter of John Varney, moving back in with his parents for about seven years. He worked his way up the railroad structure, becoming a brakeman and conductor, apparently saving his money as well despite paying rent to his parents. In 1907 he bought lots 461 and 462 of Del Ray from the developer and immediately put up what is now 416 East Windsor, on the same block as his mother. The house has an irregular shape, with an overall depth of 33 feet, and being 28 feet wide at the rear 23 feet and 21 feet wide in the front. Upstairs had 3 bedrooms and a bath.
In 1911 he added lots 463 and 464 to the west (now a newer house at 414 E Windsor). Things were looking up for the Nalls' except for the tragic death of Archibald Jr of bronchitis in June 1918, almost exactly a year after his birth.
By 1920 Archibald, of medium height and build, with gray eyes and light brown hair, and his clan were doing well. Not only was he working as a conductor on the railroad, but Ethyl and 18-year-old daughter Audrey were working as clerks for the War Department in DC, with 6-year-old son Wentworth Varney in school2. The three incomes allowed them not only a handsome house, but also a live-in housekeeper, Greta Humphries (with her young son Lester).
They moved down to the the Mt. Vernon area in the late 1920s, but unfortunately Archibald died in March 1929. Ethel remained in that area until she, too, passed away in 1956.
The Inter-War Years
Betty had sold the first Nalls house at 4033 to the 64-year-old widow Mary E. McDonald in 1917, who moved in with her son Thomas (a repairman for the railroad) and his wife Bessie and their and their two sons Clarence and Jean. Son Edward, a brakeman, also lived there for the first two years.
Mary, in turn, sold the house to Eppa Kane in 1923. Eppa was an aggressive 28-year-old salesman for FC Goodnow Co, a real estate sales and development firm based in DC that did extensive work in Alexandria and Arlington. He was clearly thinking of branching out on his own, for he lived in Aurora Hills in Arlington, and rented Betty's former house out. Indeed, by 1928 he was vice president of the new Washington & Kane Realty Investment Co.
His first tennant was George Deihr, a repairman for the railroad, being replaced in 1927 by James Durrett, a 36-year-old insurance agent, his wife Mary and four sons and two daughters.
In 1935, perhaps feeling the effects of the great depression, Kane sold the house to Henry Dixon, an auto mechanic, along with his wife Pauline. Another large family, they brought three daughters and three sons into the house with them. Unfortunately, Pauline died at Alexandria Hospital at age 36 during the premature birth of a seventh child in November 1939. The remaining Dixons stayed there into 1941.
In the meantime, Archibald's house at 416 sat largely vacant through the early 1930s, save for a brief occupancy by Clarence and Annie Barlett in 1927-28. Finally, Alf Boyce, a steamfitter, and his wife May, moved in in 1935, but in 1937 it was bought by Donato Innamorato, an Italian-born mason, with Pennsylvanian wife Antoinette, a son and a daughter. It was almost certainly Innamorato who added the brick walls to the west side of the house by 1941. They continued to live there through the end of the war.
1When he registered for the draft, at a rather advanced age for that kind of thing, in 1917 it was noted that he was missing one joint in a finger on the right hand. There must have been more than that wrong with him, for when the new pension act went into effect in 1926 he applied for and received an invalid pension of $50 based on his service as a private with Company F of the 3rd Virginia Infantry in the war with Spain. He is buried in Arlington National Cemetery.

2Wentworth moved to Pittsylvania County and married Doris Blair in 1934. He passed away there in January 1978, having served as mayor of the town of Gretna from 1974 to his death.
3It should be noted that prior to the street renumbering in 1938 the Bejamin Nalls house was 305 E Windsor and the Archibald Nalls house was 332.