The Danish Bungalow - 12 W Del Ray Ave
Born in Denmark in June 1866, Frants Lund emigrating to the US out of Bremerhaven in July 1890. He moved to Cedar Rapids, Iowa where he set up as a florist and met Ella Kramer, two years his junior. They married in January 1896.
In the meantime, many of the Danes who had emigrated to the midwest had tired of the bitterly cold winters and formed the Danish People's Society, which sent a 3-man reconnaissance team to Texas. They chose an area south of Houston about 35 miles from the Gulf coast and named it Danevang (Danish fields). Several hundred moved south but their early efforts to raise corn and wheat failed.
By 1898 Frants and Ella had joined them, he as a teacher and self-taught agricultural expert. He was hired by Texas A&M to run their nearby agricultural experimental station and converted the area to a cotton-based economy which, after a few shaky years, proved successful.
The year1901 saw the birth of son Harry and in March 1905 Frants was naturalized as a US citizen. Now holding dual citizenship, Frants moved his family to St Croix in the then-Danish Virgin Islands in May. Son Einar was born there a few months later. They returned to Texas in July 1908 where Frants took over as manager of theTexas A&M experimental station in Kountze, although they lived quite a distance away in Matagorda County, near Danevang. In October 1917 they sold their house and moved to DC, with Frants working in the headquarters of the USDA as a specialist in canning and drying foodstuffs (several of his pamphlets and monographs of the time are still available on the web), while Ella had started working sales in a department store.
In 1922 he was hired away from the USDA by John D Rockefeller Jr's International Education Board, which had the aim of spreading best agricultural practices around the world. With that, and Ella's income, they were able to buy 12 West Del Ray in July 1922, although it is not clear whether they bought a newly-completed house or had it built for them. They lived there for the next nine years, although Frants was often away on business.
His first trip on IEB business came in 1923, traveling back to his native Denmark to teach agricultural science, farm and home economics, gardening classes, etc. This was sufficiently successful that Sweden and Finland both requested extended visits. He made solo trips to Europe in 1924, 1927, 1928 and 1931, each lasting a couple of months, preferring Cunard and White Star line ships.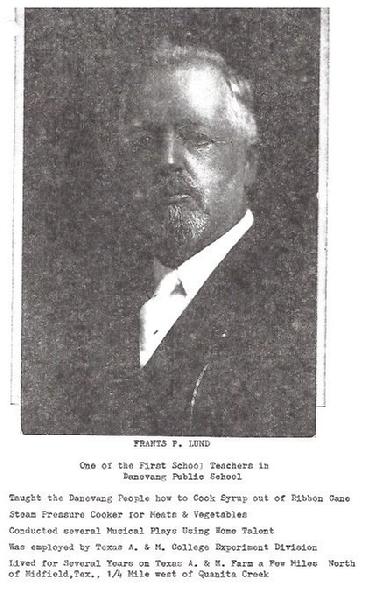 It seems to have taken a toll on the marriage. They decided to sell the house and in June of 1928 Frants signed a power of attorney at the US consulate in Stockholm to allow Ella to sell the house. Apparently things dragged on and then the depression hit, lowering house prices. Instead, they appear to have rented it out from about 1932. Frants was back in Alexandria in September 1934 long enough for he and Ella to agree to reimburse the city $93 for concrete gutters in the street. Finally, in August 1936 they sold the house, Frants signing the deed at the US Consulate in Copenhagen and Ella in Virginia.
The sons continued in the family business. By early 1930 Einar was growing flowers on his farm in Fairfax County, being joined there by Ella, while Harry had a garden farm in Gennessee, NY. Even before the sale of the house Ellen had been diagnosed with cancer. She moved back to her native Linn County Iowa for her last few years and died there in May 1937. Frants was still living in Denmark at the time, although his health was decline as well, and he passed away soon thereafter, being buried there.
The new purchasers of the house were Harry and Bertha Butler. Ella, at least, would have known them since they lived on the same block, at what is now 17 W Del Ray. Indeed, they had already sold their house in December 1935, the gap in timing between the houses presumably resulting from difficulty in finding and mailing Frants the documents in Europe.
Harry had been born in Culpepper in February 1889. By mid-1917 he was working as a car repairer for the Washington Southern Railway. Single at the time, he was of medium height and build, with brown eyes and hair. Apparently he was doing well, for he owned a third of acre on Bellefonte west of the town, which he shared with his older sister, her son, a boarder and a servant. His situation changed greatly when he married Bertha McConchie, the same age as he, in May 1920 in DC. They quickly started their family, with son Harry Wesley in 1921, Howard in 1924 and daughter Dorothy in 1925. They bought (now) 17 West Del Ray, but soon outgrew that. In fact, in 1930 they were joined by Bertha's parents, who moved over from Custis Avenue. At that point they would have been bursting at the seams in the one-story house.

The family in the new house consisted simply of Harry and Bertha, the three children and Samuel Baldwin, second cousin born in DC in 1930. The house served the family well, with all three children living there while attending GW High School. Wesley married Pearl Dawson, an Alexandria book keeper, in 1943 and then joined the Army.
to serve in the 703rd Ordnance Company and settled in Fairfax County. Howard married Laverne Hill of Mt Ida Avenue in 1947 and moved to East Mason Ave to work as a machinist.

With the two sons gone they could move to smaller accommodations and sold the bungalow at 12 West Del Ray in 1951. In fact, there were two sales since the land consisted of two double lots. They sold the house and the eastern half of the land to Jane Ponto and Vivian Wolford in May 1951 and the western (vacant) half to Samuel Bolton and John Clark in August. Harry, Bertha and Dorothy moved across The Avenue to the then-smaller 223 E Oxtord.
Ponto and her mother Wolford held the house for only two years, selling it in January 1953, with it selling again that October to Lester and Gladys Arthur, who took out a $13,900 mortgage Lester, who worked for the DoD, and Gladys lived there until selling it in January 1961.
Fortunately through all these, and later, owners the integrity of this classic bungalow has been preserved.
The family in the new house consisted simply of Harry and Bertha, the three children and Samuel Baldwin, second cousin born in DC in 1930. The house served the family well, with all three children living there while attending GW High School. Wesley married Pearl Dawson, an Alexandria book keeper, in 1943 and then joined the Army