The Prisaznick House - 119 Stewart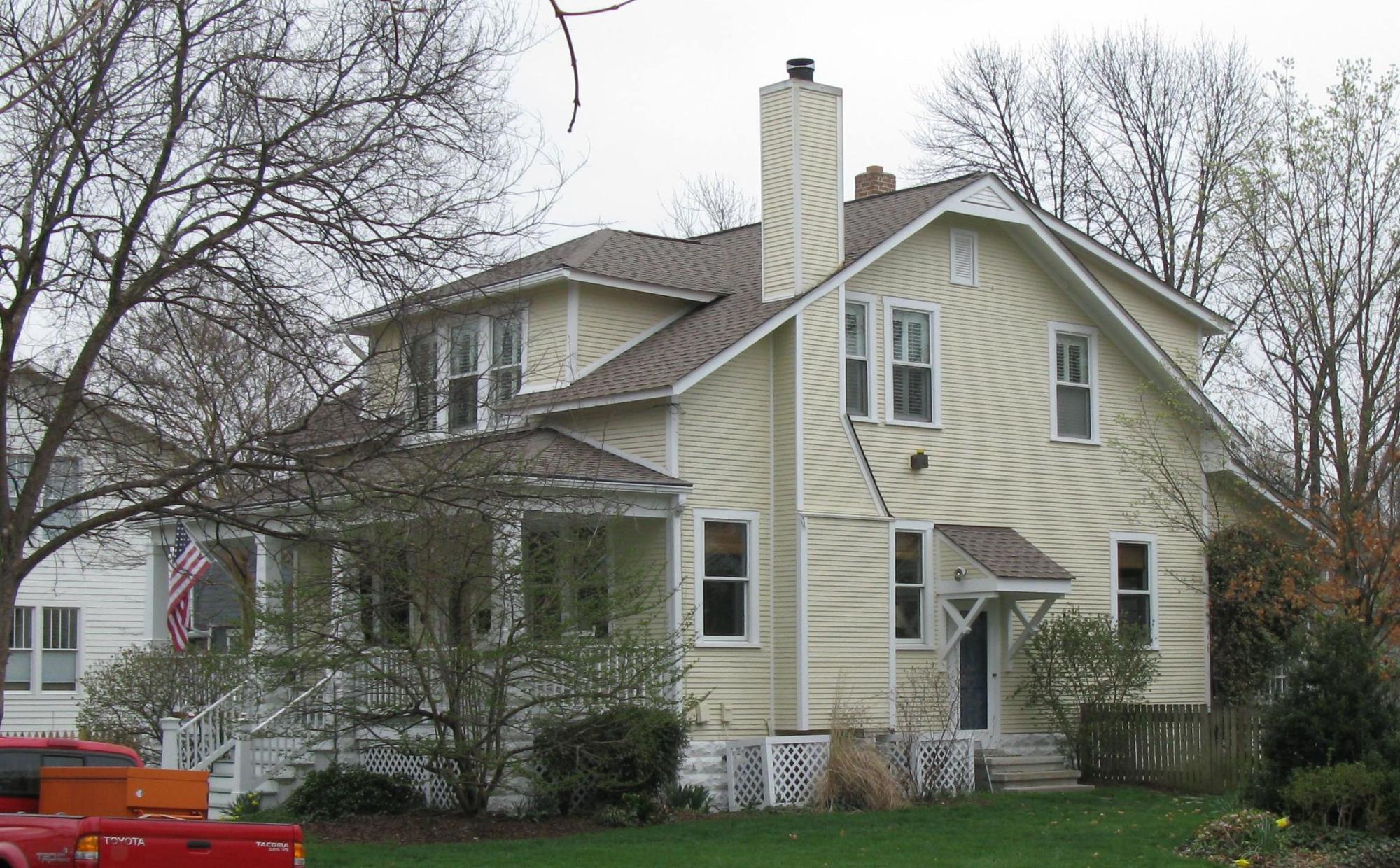 This could be subtitled the "Tale of Two Brothers". Wasyl Prisaznick had been born in Podolsk in the Ukraine (then part of Russia) in 1890, and his brother Timifey in 1894. The elder brother emigrated to the US arriving in NY in 1910, Americanized his first name as Wesley, and moved to North Payne Street in Alexandria, then moving to Queen. His younger brother followed in 1914, modifying his first name to Thomas.
Both brothers worked as carpenters, living in the City of Alexandria. Wesley continued to live on Queen Street, although his son Louis Wesley, born in 1919, went on to buy the house at 212 East Nelson, as discussed elsewhere.
Thomas, on the other hand, purchased the land that would be 119 Stewart in 1922 and slowly set about building his big new house. He probably had help from his brother, and reportedly much of building material for the house had found its way from the Fruit Growers Express facility where he worked putting up buildings and repairing the wooden portions of rail cars. The house was completed in 1924 and was presumably built to plans purchased locally, as it is a beautiful American bungalow, built only ten years after his arrival here from Russia. Rings still hang from the outside of the house where Thomas apparently fastened harnesses for working on the second floor.
The house had a footprint of 28 by 31 feet plus a ten-foot-deep full-width front porch. There was also a small porch six feet deep by ten feet wide accessed by the back kitchen door. It had a living room, dining room and kitchen on the first floor and four bedrooms on the second. All had heart pine floors except the kitchen, in vinyl. The house had one and a half baths and hot water radiator heat, with no fireplace. There was a full basement.The house project was undoubtedly spurred by his marriage to Nellie Lemeshewsky around 1920. Nellie had also been born in Russia, in 1902, arriving in the US with her family at age ten. Her father quickly moved to Alexandria to ply his trade as a shoemaker. In the small city that Alexandria was at the time it was inevitable that the Prisaznicks and Lemeshewskys would frequently run into each other, if for no other reason than to enjoy speaking Russian again.
Thomas and Nellie had daughter Helen in December 1921, followed by Florence in 1924, Evelyn in 1928, son Phillip in 1935, and finally Janet in October 1942. They raised their family there, with the kids growing up and moving out over time.
Helen married Terry Frazier in November 1939 after graduating from secretarial school. He joined the Army with war looming and stayed in through 1955, making master sergeant in the Medical Corps and serving in WW II and Korea. Helen lived with her parents through about 1948 while Terry deployed, and then joined him on his travels. Florence married machinist Peter Conlon in March 1948 and they moved to their new home on West Reed Avenue. Evelyn passed away in 1936 aged only eight years.
Thomas & Nellie at their Wedding (from Kathi Yates)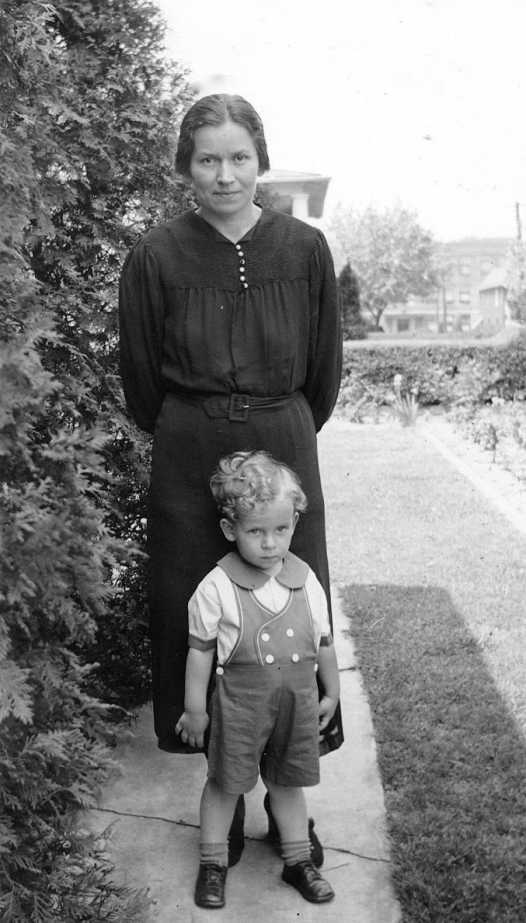 left, Nellie with son Phillip (from Kathi Yates)
Phillip took a job with the Conover Texaco Station and got an apartment of his own near the new Patrick Henry Elementary School on graduating high school, and soon married Rebecca Eppard in 1955. The last-born, Janet, was also the last to leave the nest. She became a teacher and continued to live in the house on Stewart until she married Charles Trimbach in June of 1967.
Thomas and Nellie then remained in the house on their own. Thomas passed away in May 1979 at age 85, and Nellie died ten years later at 87. They had spent 65 years in the house.