The Peake House (117 W Monroe)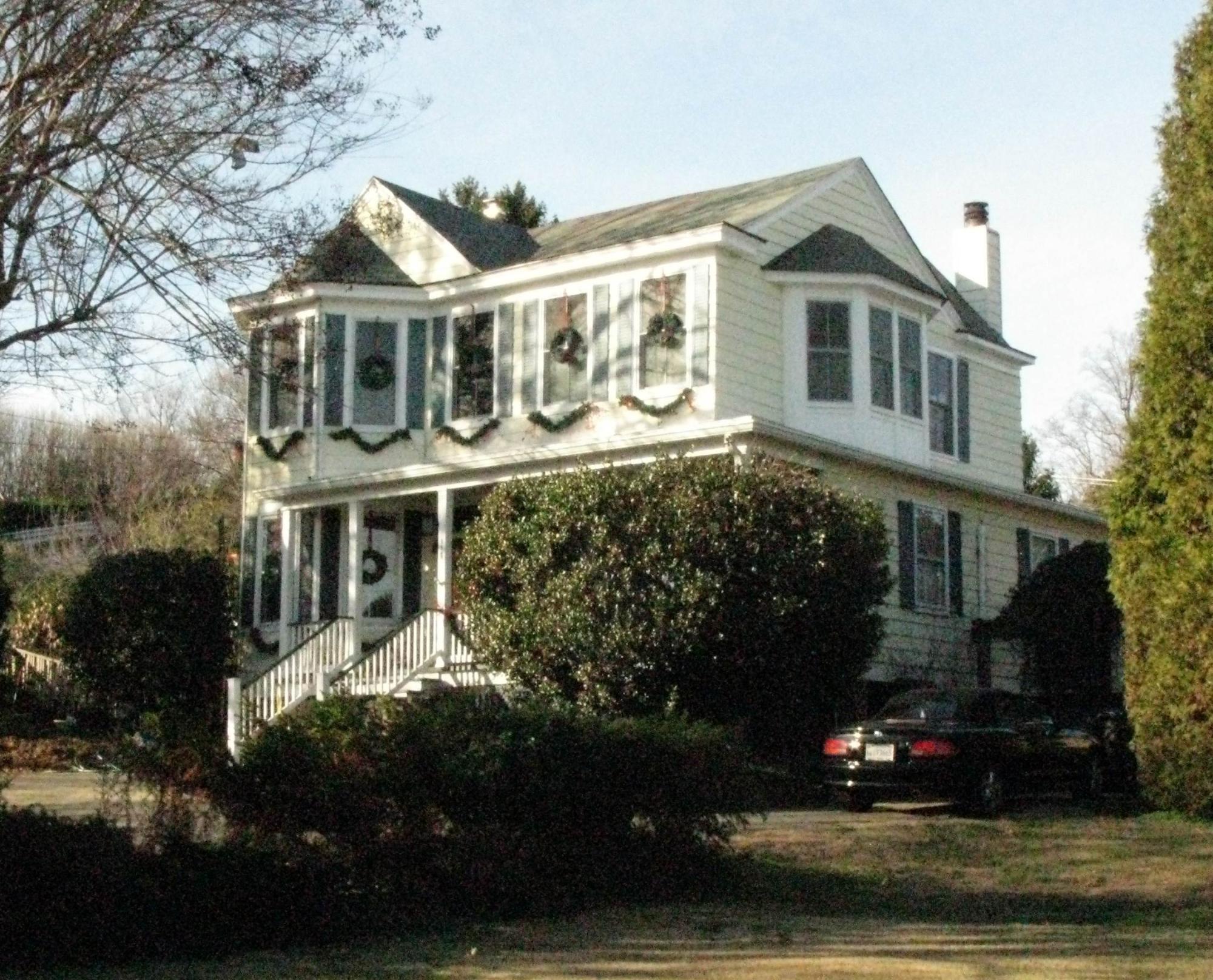 The Peake house in December 2015, showing its various modifications
Joseph Milton Peake was born in December 1854 in Fauquier County and at age 21 married Jane Frances O'Bannon, five years his senior. They moved to Alexandria where Joseph worked as a grocer and then at grain and feed business at King and Alfred Streets with his son James, then in the coal business. By 1900 he had become a regional manager for Singer Sewing Machines.
In the meantime they had started a sizeable family. Jane gave birth to James Frederick in December 1876, Jane ("Janie") (December 1878), Charles (May 1881), Joseph T (November 1882), Bertha (April 1885), Henry Neville (October 1888) and Rose (January 1892).
With a well-paid job secured he went out and bought two lots in the Braddock Heights neighborhood from the developer, North West Alexandria Improvement Company, in 1899 and built a large, handsome house, now known as 117 West Monroe. They then started buying land as rapidly as finances permitted. They bought another lot in 1900, three more in 1901, and no fewer than fourteen in June 1905. As a result, they owned 22 of the 24 lots (each 50x135 feet) comprising the block bounded by Monroe, Russell, Mason and Hancock. These were apparently intended simply as medium-time investments for they never built houses on any of them, other than the original family house. They started disposing of the properties in the late 1910s and early 1920s so that by 1926 they were back down to six lots, including Lots 7-9 that held the house.
Charles M
In the meantime, life had gone on. In October 1906 Charles married Juanita Mann of Washington DC and the couple took up residence there, with Juanita giving birth to a daughter the following August. Unfortunately, Juanita passed away in September 1911 and Charles with daughter Evelyn moved back to Braddock Heights. Charles was then diagnosed with tuberculosis in 1911 and slowly faded away. He finally succumbed in June 1916 at age 36. Evelyn remained in the house to be raised by her extended family.
Janie
Janie moved out to West Virginia to marry John L Arnold, an engineer for the B&O Railroad in 1912. They set up their home in Keyser WV, 18 miles south of Cumberland, MD, where she gave birth to John Jr in November 1918. Sisters Bertha and Rose, being adventuresome, made motor trips to visit her starting in 1916. The Peake women tended to be long-lived and she passed away at age 85 in 1965.
Joseph
Joseph, the most ambitious of the siblings, married Edith Childs of Alexandria in December 1910, he 28 years old, she 23. They lived for two years in his family house on Monroe then moved to Brooklyn, NY, where he landed a job with the maritime department of Standard Oil. They had a son, Joseph Jr, and things apparently went well. Then he took ill and died shortly thereafter in June 1927. Funeral and burial were held in New York.
Bertha
On 30 December 1906 twenty-year-old Bertha was involved in the infamous Terra Cotta train crash near Catholic University. She and her friend Carrie Cromwell were returning home on a slow-moving local train of three cars that originated in Frederick, MD. At 6.30 PM they had just left the Terra Cotta station in the District. Behind them in the fog was fast-moving work train No.2120 that blew through the red stop signal at the Terra Cotta station at full speed of 65 mph, causing the station master there to send his famous frantic telegraph to the next station "2120 by my red target, going like hell". A few minutes later the huge steam engine smashed into the flimsy wooden passenger cars of the local train, hurling wreckage and body parts a quarter-mile to each side of the tracks. Fifty-three died.
Bertha's friend Carrie, who was sitting next to her in the same seat, was killed instantly. Bertha survived, but suffered grievously. She was taken to Garfield Hospital where doctors initially envisioned amputating her left leg, but Bertha was tough and managed to get discharged back to home care after only a month, with both legs, although undoubtedly still suffering from what the Washington Evening Star referred to as her "severe nervous shock".
In March 1918 she married William G Middleton and they moved to Trenton, NJ where he ran a veterinary practice. He passed away in January 1930 at age 50, but she continued to live in Trenton until she was moved the the Lawrenceville (NJ) nursing home and soon thereafter passed away in July 1970, at age 84.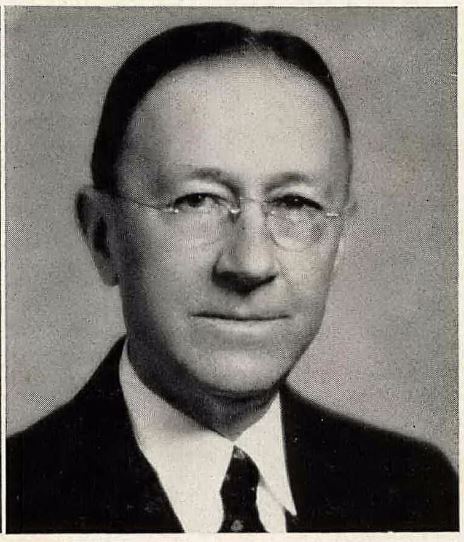 J Frederick's senior photo at Randolph-Macon College
James Frederick
Three siblings remained close to home. James Frederick was the academic of the family. He attended Randolph Macon College, where he earned his BA degree and, although slim of build, was apparently as much known for his appetite as for his ability at debating. The yearbook noted:
Thy mission on earth is to convert, and convert thou wilt, for fat hens shall speedily be converted into naked bones, and turkeys shall hide on thy approach. To the land of the Marylanders wilt thou return to teach them thy wicked ways. Over their land as a circuit-rider shalt thou ride upon the back of a lame blind horse, feeding fat on hen and turkey taken from thy hungry people, who in despair shall cry out, "Woe is the day that brought Frederick among us".
He then went to George Washington University in DC where he was awarded his MA in 1904. With that he moved back home to Alexandria and then joined the faculty of Randolph-Macon Women's College in Lynchburg as an associate professor in 1911. He shortly made full professor and remained there teaching political science until retirement in June 1947. He lived in a series of apartments in Lynchburg, although he spent many of his summers at the family home in Alexandria. He also attended the League of Nations' International Peace Congress in Geneva in 1926 as a member of the Carnegie Endowment delegation.
He remained in Lynchburg, as a professor emeritus, until 1955 when he moved back to Alexandria to clear up family affairs as the last member of his generation.
Rose
Rose was the youngest of the siblings and found work around 1915 as an early finger print technician for an unspecified government agency. From 25 April to 31 December 1917 she served as a yeoman in the US Navy Reserve Forces, starting her clerical career. By 1930 she was a stenographer for the US Navy, rising to supervisory status. She never married, living in the family house on Monroe until her 1950, then moving next door to 111 West Monroe, and continued to work until her death of a heart attack in May 1955, two months before her brother Neville.
Neville
Neville, of medium height and build, with black hair and blue eyes, had become a bookkeeper for the American Ice Company and in June 1912 he married Geneva ("Eva") Taylor, 33 years old. Heartbreak soon followed, in May she began suffering from acute diabetes, and on 22 August she went into a coma and died the following day - 34 years old and only 14 months into her marriage. Neville never remarried.
Instead, he plugged away at his work, becoming an auditor in 1935, then in the early 1940s secretary and assistant treasurer of the Carry Ice Cream Co, a local firm; and finally in the 1950s he was named the secretary-treasurer of Meadow Gold Ice Cream Co., a midwestern operation. Most of this time he lived in the family house on Monroe until his mother died and he moved next door to 111 West Monroe, along with Rose and Nellie Harris. He died of a heart attack in July 1955 at age 67 and was buried in the spot he chose 43 years earlier next to Eva.
Evelyn
The family raised granddaughter Evelyn in the house, she having been orphaned at nine years old. She seems to have led a fairly active social life into the 1930s, when she became an assistant librarian for the Alexandria Public Library. In July 1938, at age 29, she married 35-year-old accountant Charles Elliott, living on Russell Road. They later moved to Crescent drive until she passed away at Potomac Hospital in September 1983.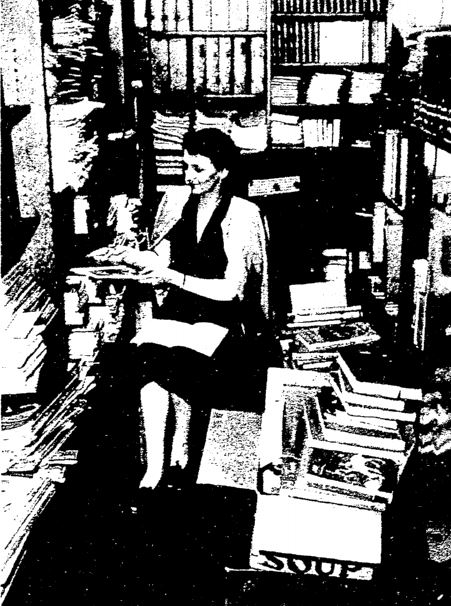 Evelyn as a cataloguer in the Alexandria Public Library 1952
The Parents
In the meantime the parents had run the family household. Joseph M had taken over as manager of a coal company in the 1910s, but retired in the 1920s as advancing years and chronic cardio-vascular and renal disease sapped his strength. In October 1929 he died suddenly while visiting his brother in downtown Alexandria.
Jane F, the matriarch of the family, continued providing continuity in the house. She had the strong constitution that she would pass on to her daughters, but by the time she hit her mid-90s senility had begun to set in, making feeding her difficult. Suffering from malnutrition she finally succumbed to pneumonia in August 1950, four months past her one hundredth birthday. By that point only Rose and Neville remained in the house, although Frederick moved in briefly to clear up matters once those two had also passed away.
One other person lived in the house, longer than many of the family members. Nellie Harris, a 15-year-old African American girl had been brought into the house in 1917 as a housekeeper, cook and servant. She lived there until the house was sold. In her will Jane requested " that Nellie Harris, who has been a faithful servant to me and them is properly cared for throughout the rest of her life".
The 1921 Sanborn map of the property, showing the original footprint of the house, along with outbuildings. The property runs all the way from Monroe Ave (at the bottom) to Mason Ave (at the top) at this time.
The House
The house was built in 1899, probably as an impressive example of center-hall folk-victorian. There was a two-story core with two windows each side of the front door, and a single-story porch all the way across the front and wrapping around the east side of the house. The 1921 Sanborn shows a 1½ story extension out the back, but it is not clear if this is original or an addition from the 1910-era. Heat was by steam radiator, a finicky system compared to the simpler hot water heat.
They had a variety of outbuildings that changed over time, with the 1½ story building probably needed for the first fifteen years for the horse and carriage they maintained, after which it was probably used for storage.
The house suffered about $500 worth of damage (about a quarter of its value) in the record-breaking cold of January 1912. The Washington Evening Star noted:
Several hundred dollars damage was done by fire, which started shortly after 10 o'clock this morning in the residence of Joseph M Peake, at Braddock, two miles north of Alexandria. Starting from overheated steam pipes in the cellar, the flames burned through the side of the house. Organizing themselves into volunteer fire fighters, neighbors came to Mr Peake's assistance. Fearing for a time that the flames would get beyond their control, a call was sent to Mayor FJ Paff for aid, who sent the Relief hook and ladder truck to the scene. At the time of the truck's arrival, however, the fire was under control and the Alexandria firemen did not aid. The loss is covered by insurance.
In the first half of the 1930s tastes apparently changed and a two-story bow window was added to the front of the house on the west side, this displacing that portion of the front porch. Later, probably in the 1960s, the porch on the east side was enclosed and another bow window added above it.
Selling The Family House
Jane F owned the house on Monroe at her death. Her will had been written in July 1934 and was slightly dated. It stipulated that on her death Frederick and Neville were to manage the property for so long as those two, daughter Rose and granddaughter Evelyn wished to live there and remained unmarried. After that the house was to be sold. By the time of her death Evelyn had married and was thus out of the picture. With the passing of Neville and Rose in 1955 the house fell empty and Frederick apparently had no desire to live there. In October 1956 Neville, acting as trustee of his mother's estate, sold the house to Percy and Pearl Dove. The land involved was huge, three lots facing Monroe and the three lots directly behind, facing Mason. The Doves split the land up into two parcels and sold them. This made possible the construction of 112, 114 and 116 W Mason in 1956 and 113 W Monroe next door to the original house in 1975.