In 1936 the Nilsons got building permits for a new house with FW Horton as the builder. Ralph had been born in Worcester Mass in August 1902 and trained as a patent lawyer and examiner. He moved to DC and married Agnes Haaksma there in March 1928, just before moving to San Francisco. Their son Paul was born there in 1929 and in the early 1930s they moved to Alexandria where they rented a floor of Newman Raymond's two-family house at 210 E Bellefonte. The birth of son Robert in August 1935 apparently spurred them to look for more permanent accommodations. In November 1935 they bought vacant lot 89 from the Davis', needing only a mortgage for $175. The next year they had the beautiful tudor revival house that now stands put up.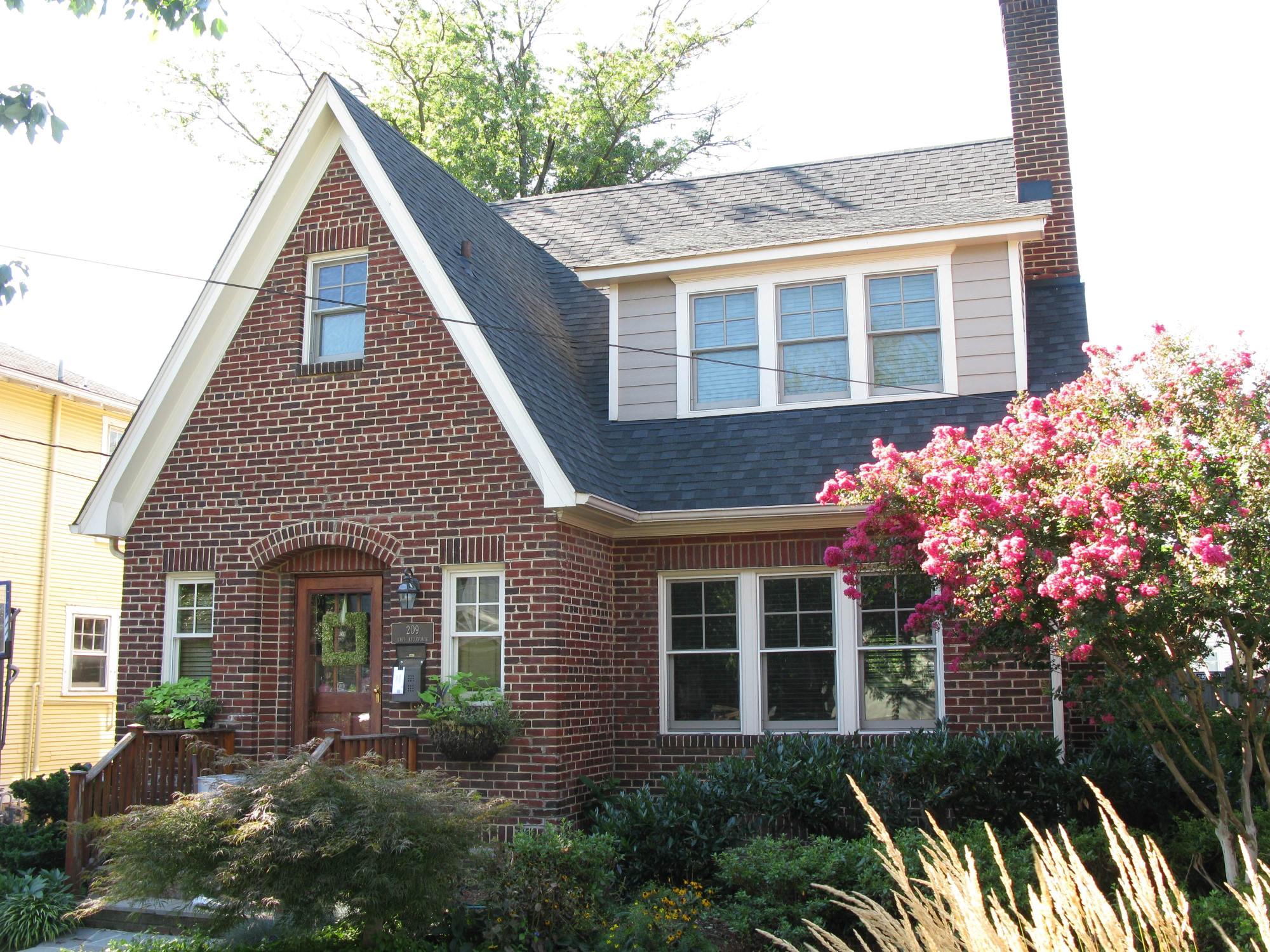 Back in February 1917 SG and Jessie Heddings bought lots 88 and 89 of the East Braddock subdivision from its developers, sisters Hattie Duncan and Mary Price. The Heddings sold them to Claude Spittle in March 1921, who put up the bungalow on the western lot (now 207 E Bellefonte) in 1924. He sold both lots to the Budweskys in 1926, who passed them on to the Davis' in 1929. It was Courtland and Mary Davis who split the two lots up, keeping the house with lot and selling the vacant lot (number 89) next door to Ralph and Agnes Nilson in November 1935.
The Nilsons stayed there seven years, raising their family, until Ralph was transferred to Richmond in early 1942. In June of that year they sold the house to Howard L and Hazel Coberly. Howard Lawrence Coberly and Hazel Isner had both been born in West Virginia, Howard in October 1918 and Hazel a month later. By 1940 they were living in Elkins, WV with their year-old son Charles and Howard's 14-year-old brother Edward.
Shortly thereafter Howard, Hazel and Charles picked up and moved to Alexandria. There he quickly found work with the expanding Naval Torpedo Station and in mid-1942, with probably more money than they had ever seen before, they purchased the Nilson house. They encouraged his parents, Howard senior and Grace, to move from West Virginia and into their house, with Howard senior also quickly finding work at the torpedo station. Brother Edward soon also joined them, although in September 1943 he enlisted in the Army Air Force, getting his discharge in January 1946 as a sergeant.
Howard and Hazel welcomed a baby girl, Mary, in December 1946, but the following year house population went back down again when Edward married a fellow West Virginian, Mary Hartman, in August 1947 and moved to their own house down the street at 525 E Nelson. At about the same time his parents, Howard senior and Grace, moved out to their own house on 2nd Street.
Unfortunately, Howard senior passed away in September 1949, age only 60, although wife Grace took a sales job at Woodward & Lothrop and managed to live until age 95.
Howard and Hazel stayed on in the house raising their family until June 1973, when they sold it to Manuel and Anita Ortiz.
The house has irregular footprint, the main portion being 28x27 feet, with a protrusion on the front 5 feet deep and 14 feet wide. It has kitchen, living room, dining room and half-bath on the first floor, and three bedrooms and a bath on the second floor. All had hardwood floors and plaster walls. Heat was by hot-water radiators. The basement was unfinished. A garage was added in 1957.
The Nilson-Coberly House (209 E Bellefonte)