The Lewis DeVaughan House (111 Stewart)
Lewis DeVaughan, short and slender with gray eyes and dark hair, built a career as a clerk, most of the time for the Washington Southern and then RF&P Railroads at Potomac Yard. He had been born in Alexandria on 26 August 1887 and grew up at 412 King Street, his father a carpenter.
On his birthday in 1909 he married fellow Alexandrian Lottie Isabella Harrison, four years older than he, at Grace Episcopal Church and they took off for a honeymoon in Atlantic City. They moved into their own place, first on South Patrick, then on Princess before buying one of the new row houses at 109 Harvard Street, close to Union Station. The house purchase was almost certainly spurred by the birth in July 1913 of daughter Margaret Isabel.
They enjoyed about ten years on Harvard Street before opting for a single-family house in the new development of Mount Vernon in the town of Potomac. In April 1925 they sold the house on Harvard St and bought Lot 28 of the Mt Vernon development, which was first designated 123 Stewart Ave, then renumbered 111 Stewart in the massive renumbering of the late 1930s.
On that lot they built a modestly-sized but nicely proportioned 35x23-foot house with a 3-fixture bathroom, a kitchen, a living/dining room and three bedrooms on the main level. The bathroom had tile floor and kitchen linoleum flooring, the rest being hard wood. Heat was by radiator and the walls were plaster. It also benefited from a full, albeit unfinished, basement.
Lewis and Lotti made their home there, along with Margaret, with Lewis working his way up to chief clerk and Lotti working as a tailor in a department store. Margaret moved out in 1931 leaving Lewis and Lotti in the house, with Lotti in pain from the chronic pyelonephritis she had had since 1915. After 20 years the disease took a sudden turn for the worse and she passed away at Alexandria Hospital in December 1935.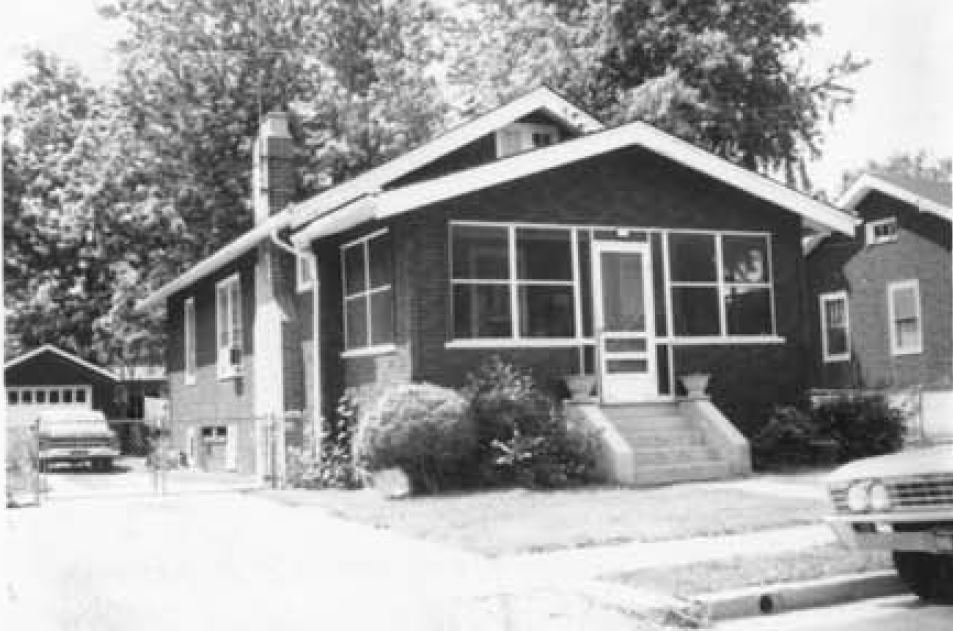 Lewis remarried the following year, to Lotti's half-sister, Pauline Harrison. They lived in the house for the next fifteen years. Lewis, however, had been suffering from rheumatoid arthritis and generalized arteriosclerosis and on 5 April 1950 he passed away in the hospital three days after experiencing an embolism. The sad memories probably outweighed the good for Pauline and she quickly moved out and in with her brother George Arthur on North Columbus St. They later moved to 116 Harvard Street, ironically just a few doors away from where Lewis and Lottie had started their married life fifty years earlier. Pauline finally passed away in September 1969 at age 79.
In August 1950 Pauline, along with daughter Margaret Smith and her husband David, sold the house to Earl and Katie Jackson, who got a mortgage for $5,000 to buy it. Earl, a research worker for DoD, and Katie lived in the house for eleven years until they sold it in August 1961.
Above, 111 Stewart in 1971, with enclosed porch and bricktex exterior. Below, the house beautifully restored, with front porch opened up and bricktex removed. The 1x9 foot bump-out on the side was added in the 1970s.