Little is known of James E Martin except that he had a dream. He was going to put up modest but attractive houses that could be sold to the expanding middle-class of the 1920s. Working from his homes in DC and on Glebe Road he began by buying up individual lots in the Wilmar Park development from the executor of William Brown's estate.
Wilmar Park
Wilmar Park was the brainchild of William H Brown, who bought a strip of land along the northern edge of the Georgetown Road (now East Glebe) between Jeff Davis/US1 and Commonwealth. This he cut up into two rows of lots in December 1924 each lot about 50 feet across and 135 feet deep. One row faced Glebe and was developed as Brown envisioned, ready for single-family facing the street. Behind that was a second row of lots that faced Caroline Street, which was to run parallel to Glebe but north of it. This area never panned out and was eventually sold off to form part of Lynnhaven.
As you drive along East Glebe between JD and Commonwealth you can still see many of the original Wilmar Park houses from the 1925-1930 period on the north side. Six of these are JE Martin houses built from May 1925 to May 1926: 106, 114, 200, 302, 304, and 308 E Glebe, while another three, 112 and 402 E Glebe and what is now Glebe Mews, have been torn down. For the most part these were classic narrow-front 1 ¼ story bungalows, although most have by now been modified with an additional level added above. Two retain the original appearance and proportions that made them so attractive, 114 and 308 E Glebe. One more, 200 E Glebe, has added a large two-story structure at the back but left the original house largely intact.
Since they were just on the other side of Glebe from the Town of Potomac to the south most, if not all, were tied into the town's sewer system.
A classic bungaolow by JE Martin at 308 E Glebe (Google Earth).
Martin's only two-story house in Wilmar, at 304 E Glebe (Bing maps)
Into the Town of Potomac
Even before those houses were complete he had begun expanding his base into the Town of Potomac to the south. He purchased the lots between May 1926 and March 1927 and immediately starting putting up houses, delayed only by the town council revoking a building permit for "not being erected in accordance with the building regulations" in October 1926. That was apparently quickly remedied, however.
He started off in his comfort zone, with a bungalow. The first house he put up in the town was a classic narrow-front bungalow at 404 E Del Ray Ave, similar to those he had built along the north side of Glebe in the Wilmar development. That was followed a year later by a visually-striking front-gable-porch design at 2403 Burke St that he would use later in Cottage Park.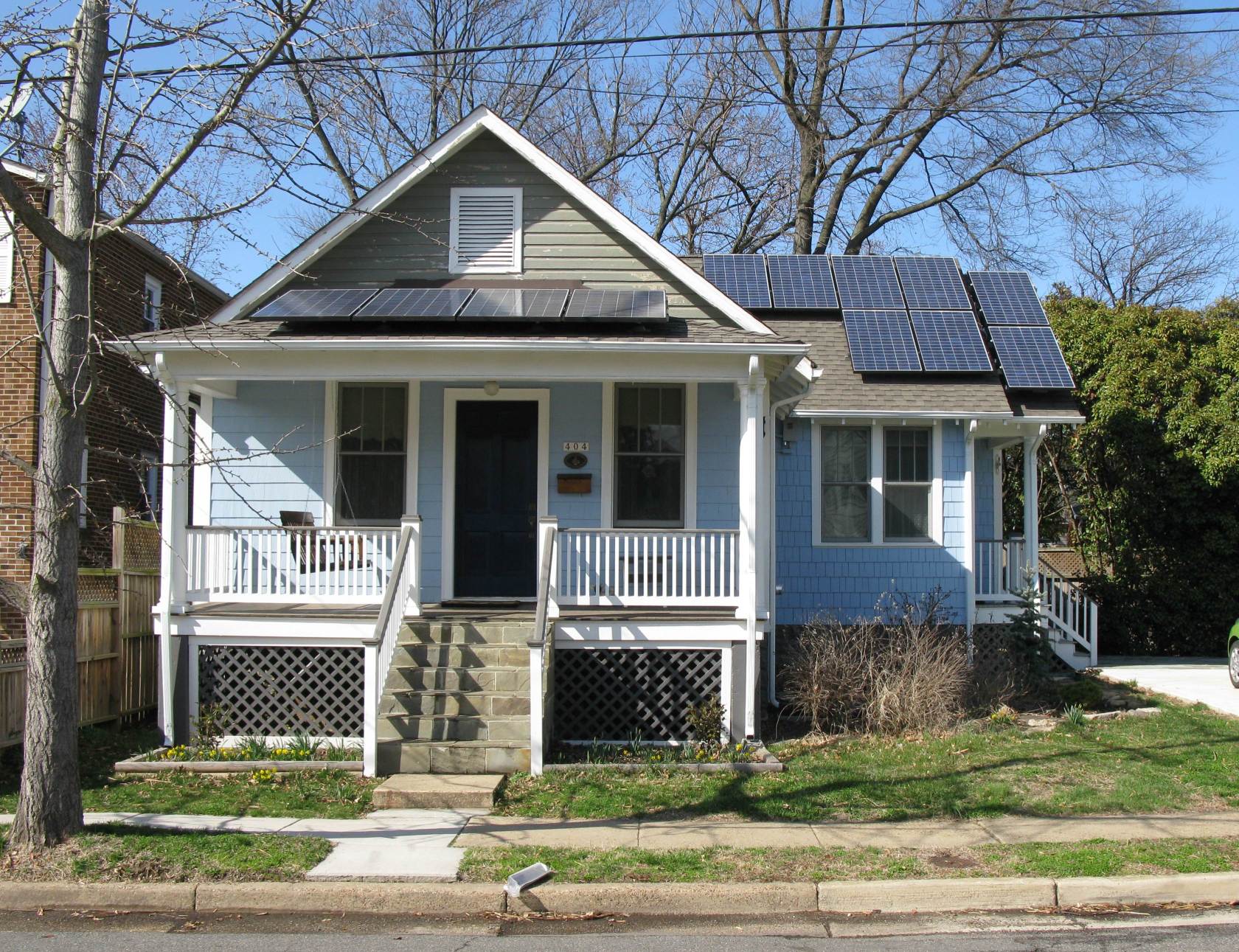 The first of his houses in the town was this bungalow at 404 E Del Ray. What had been a small bump-out on the right has been expanded to a larger addition. The solar panels are, obviously, recent additions.
The bungalow at 2403 Burke with its distinctive front-gable porch roof slightly predates his similar house in Cottage Park.
He then built three houses that simply defy achitectural categorization. They are symmetrical, multi-gable houses that look as though they might have been built with an eye towards possible use as duplexes, but there is no evidence any of them were so used. One, on Mt Ida Avenue, has an all-wood exterior while the other two, one on the south side of Glebe and the other on E Windsor, have brick-face on the first floor.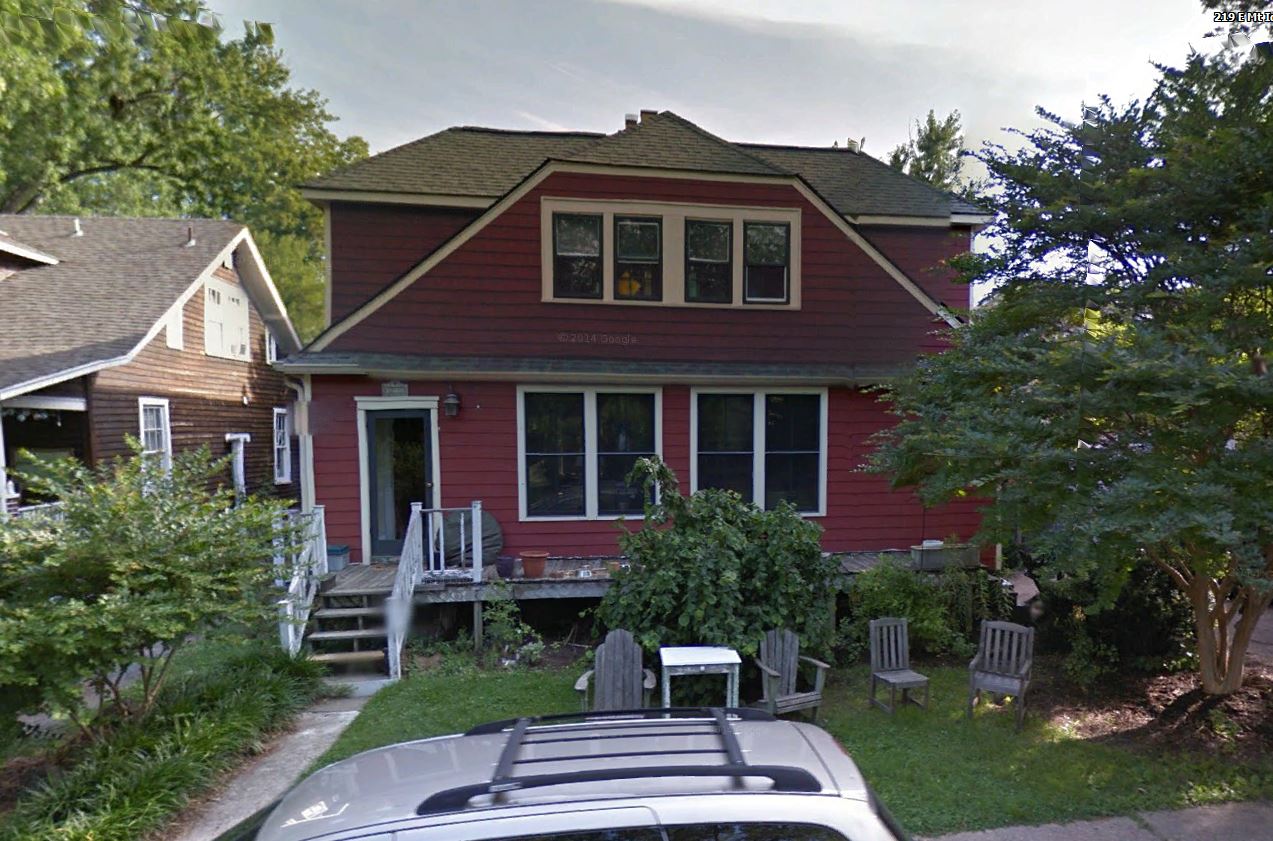 This is the all-wood version of the distinctive Martin design at 218 Mt Ida (Google Earth)
The house at 304 E Windsor has the mixed exterior.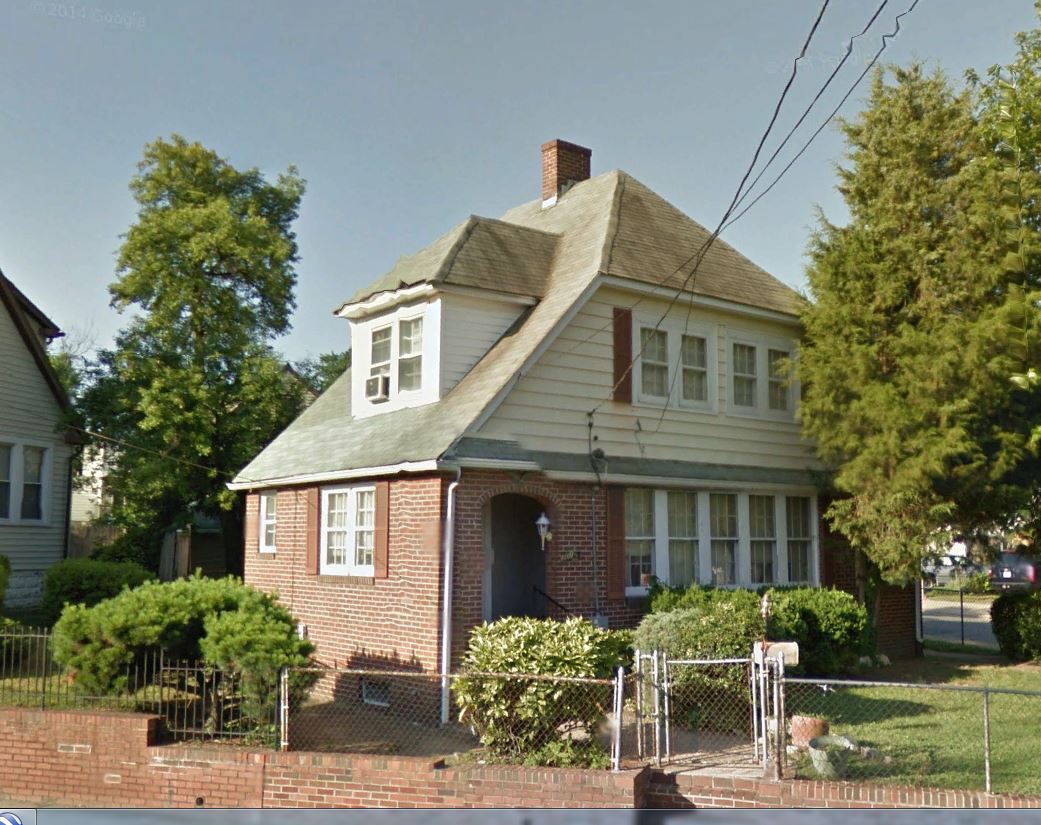 A front-quarter view of 301 E Glebe.
A rear-quarter view of the same house.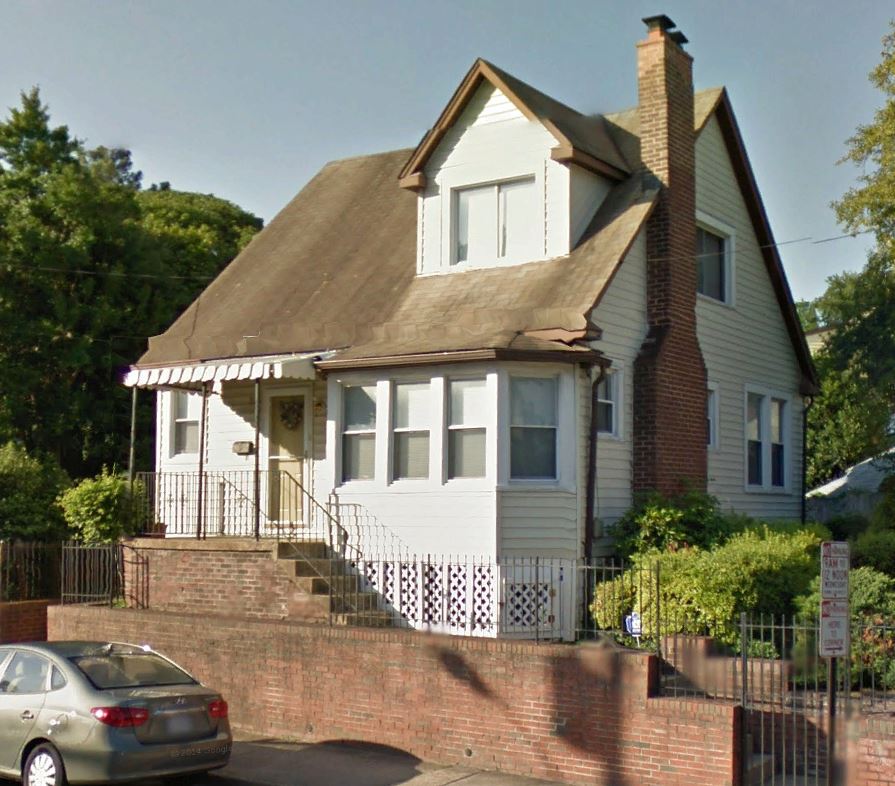 There are two other houses in this batch on the south side of East Glebe. The most conservative of all Martin's designs, 307, being a variant of the colonial revival style. It was 28 feet wide and 22 feet deep with a basement and two floors. The first floor had a living room, a dining room and a kitchen, while the second floor had three bedrooms and a bathroom. Floors were hardwood, except the kitchen, in vinyl, and the bathroom, tiled. The house was sold in July 1926 to Walter Hogan for about $6,000, a substantial sum. Heat was initially by hot-water radiators, but as the house was expanded it was found easier to replace that with hot forced air. At some point in the 1930s a single-story extension, making the house an additional nine feet long was added to the east side. Then, after 1971 that was raised up to a two-story structure and a similar addition put on the other end. To the right it is shown as it appeared in 1971.
On the left is 303 East Glebe, a rather conventional 1½ story design with a bow front on the right side. It is possible that the dormer on the front was added at a later date.