JE Martin Mirror-Image Houses
307 & 307A East Windsor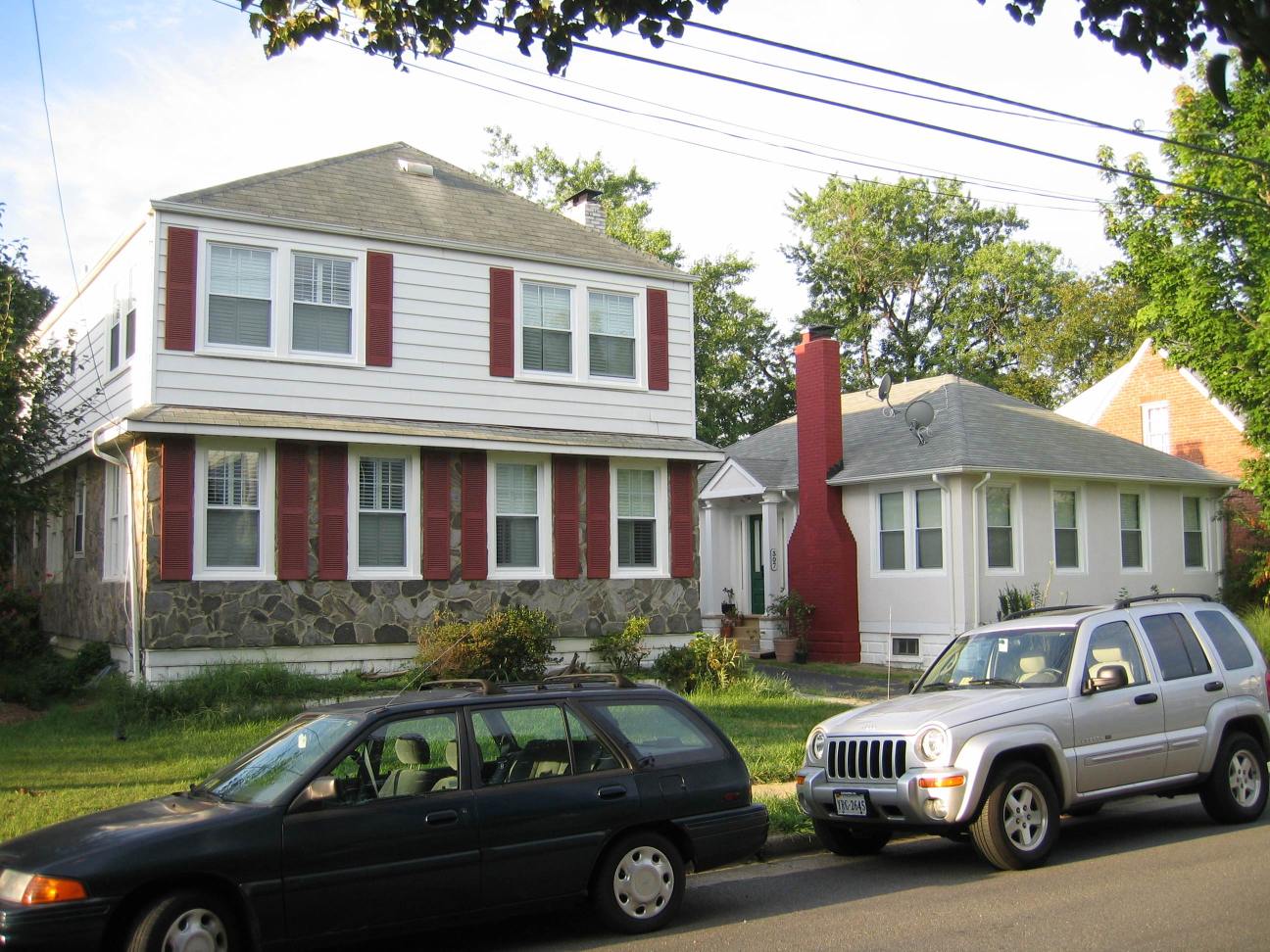 The really cool 307 E Windsor in its original configuration on the right. On the left, 307A which was subjected to a "pop-top" second story and faux stone finish, done between 1950 and 1990, probably by the Fannons.
This pair of modest houses was unique in that they were built as mirror-images facing each other, with their front doors off a common driveway and their narrow ends facing the street. They were of frame construction with stucco exterior, and each had 1,053 square feet of living area on their only level, plus 814 feet in a full, but unfinished, basement. Heat was by hot-water radiator. They were probably the last of JE Martin's houses in the area, the construction mortage for 307A being taken out in March of 1928.
Number 307 is still in its original configuration, but 307A has been subjected to a "pop-top" addition of a second floor straight up and permastone exterior on the first floor.
Both houses were used as rentals, each initially at $30/month, with 307 still at that rate in 1940 and 307A having risen to $32.50.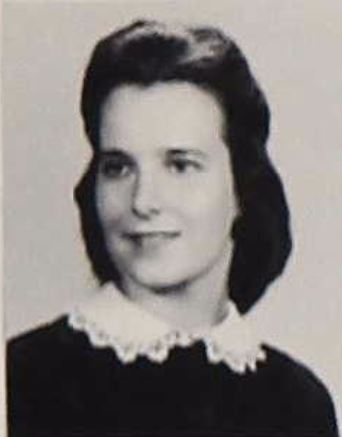 307 East Windsor
307 (originally 215) E Windsor was initially rented to Jeff Hicks, a 27-year-old drug store window dresser and his 25-year old wife Eleanor, daughter Barbara and Eleanor's brother Warren Saffell. Turnover was rapid, for they were replaced in 1931 by Aubrey Brown, a rail car repairer for Fruit Grower's Express and his new wife Louise and daughter Clara. In 1934 Charles Troiano, an Italian-born shoe repairer and his wife Gertrude moved in; they being followed in 1935 by Willard and Susan Parker. Willard was a civil engineer with the Corps of Engineers, and they lived there with daughter Margaret until moving to South Washington Street in 1941.
Ownership finally replaced rental with Howard and Gladys Staats, with their 3-year old son Fred, who bought the house in March 1941 for $4,000. Howard was a machinist from Pennsylvania, apparently lured south by the war effort. In 1942 daughter Sandra is born, but things were not entirely rosy. Howard and Gladys separated in October 1945 and two months later Gladys sold her interest in the house to a trustee who held it for Howard's benefit. Notwithstanding that, it was Howard who moved out, and Gladys was granted a divorce in November 1947. Gladys and the kids continued to live at 307 until Sandra graduated high school in 1960, got a job as a clerk-typist and moved out to Auburn Court, marrying in 1962. Fred stayed in the house with his mother until his marriage in August 1961, then moving to become a teacher in Prince George's County. Apparently the departure of the kids triggered a divorce clause, for that same month the house was sold by Howard's trustee and Gladys moved out.
The buyers of 307 were Richard and Sara Cash, who turned around and sold it a year later to William and Esther Gallahan, the owners of 307A.
Sandra Staats in her 1960 GW HS photo
307A East Windsor
On the eastern lot the first tenant of 307A was Norman Ralph Spilman, wife Mattie and daughter Shirley. Norman was a bit of a floater, holding many jobs, few of them for long. And, indeed, by 1930 the house was vacant. The new tenant, from 1931, was Guy A Grimm, a 42-year-old painter and paper-hanger with his wife Nettie Virginia, 20-year old son Marion, salesman in a grocery store, 12-year old daughter Kate, 10-year old son John and 8-year old Gordon. The two eldest moved out in the 1930s, but Guy's father John moved in with them.
The Grimms stayed ten years, moving out in 1941. Moving in were the first individual owners, John G Morgan, a printer, and his wife Nancy Elizabeth, both born 62 years earlier in England and naturalized in the US. They moved here from Scranton so John could take a job with the GPO and closed on the new house in March of 1941, paying $4,000, paid for with a $3,000 mortgage. The kids apparently came with them. John and Elizabeth moved to Lorton shortly after the war, but the children took over the house: John Jr, a public school teacher, and Geneva, a customer service representative with the telephone company. John Jr left shortly thereafter and finally Geneva left in 1949. As a sad aside Geneva, who had also moved to Lorton, died in an automobile accident in December 1952 when she lost control of her car late at night in Fairfax at age 30.
September 1949 saw the arrival of new owners. Esther Bennington had been born in March 1910 in Rockingham and in July 1937 married Frank J Fannon Jr of White Plains, NY in Alexandria. They had a son, Frank III, but separated in June 1941. In January 1947 she divorced Frank and married William B Gallahan, a diver and engineer, that June, him nine years younger at 28. Notably, having once been burned in marriage Esther bought the house herself, inserting in the deed that it would be "free from the rights of all husbands, past, present and future."
They moved into 307A with her son Frank and were joined by their daughter Virginia "Ginny" Gallahan in July 1951. In August 1962 the couple purchased house 307 next door, reuniting them in ownership for the first time since Wallace & Herring sold them separately in 1941. In 1973 Esther relented and executed a new deed for 307A that transferred ownership to her and William jointly. They stayed there almost 30 years, until William's death from lung cancer in October 1980 at 54 years old. It was long enough to see Virginia married (twice, actually) and Frank J move out on his own.
Esther passed away in 1998, leaving all her property to the two children, Frank III and Virginia DeFresne. They sold the two houses, along with other properties in Del Ray that their mother had accumulated in the 1970s, to Carl Jon Andreen in March 2000. He split the properties back up again, selling 307 in December 2000 and 307A in July 2001.