The George French House (311 E Howell)
George French Moves In
George B French had been born in Massachussetts in 1842 and joined Company K of the 32nd Massachussetts Infantry in July 1862 and was mustered out as a private on 17 December 1864 with a disability. After the war he moved to DC and in 1865 he married local girl Susannah, four years his junior and they had two daughters, Emma in 1866 and Cora in 1869. In June 1871 he reenlisted for a five-year stint in the Army's general service corps as a clerk, but apparently impressed the brass in the War Department and in 1874 he was discharged in order to take a civil service clerk job there. In the meantime the family had continued to expanded, with Lida in 1871, Marietta in 1874, Charles in 1877 and Minnie in 1879. Susannah passed away in February 1889 at age 43, and George wasted little time, remarrying to Francis "Fannie" Gridine in December.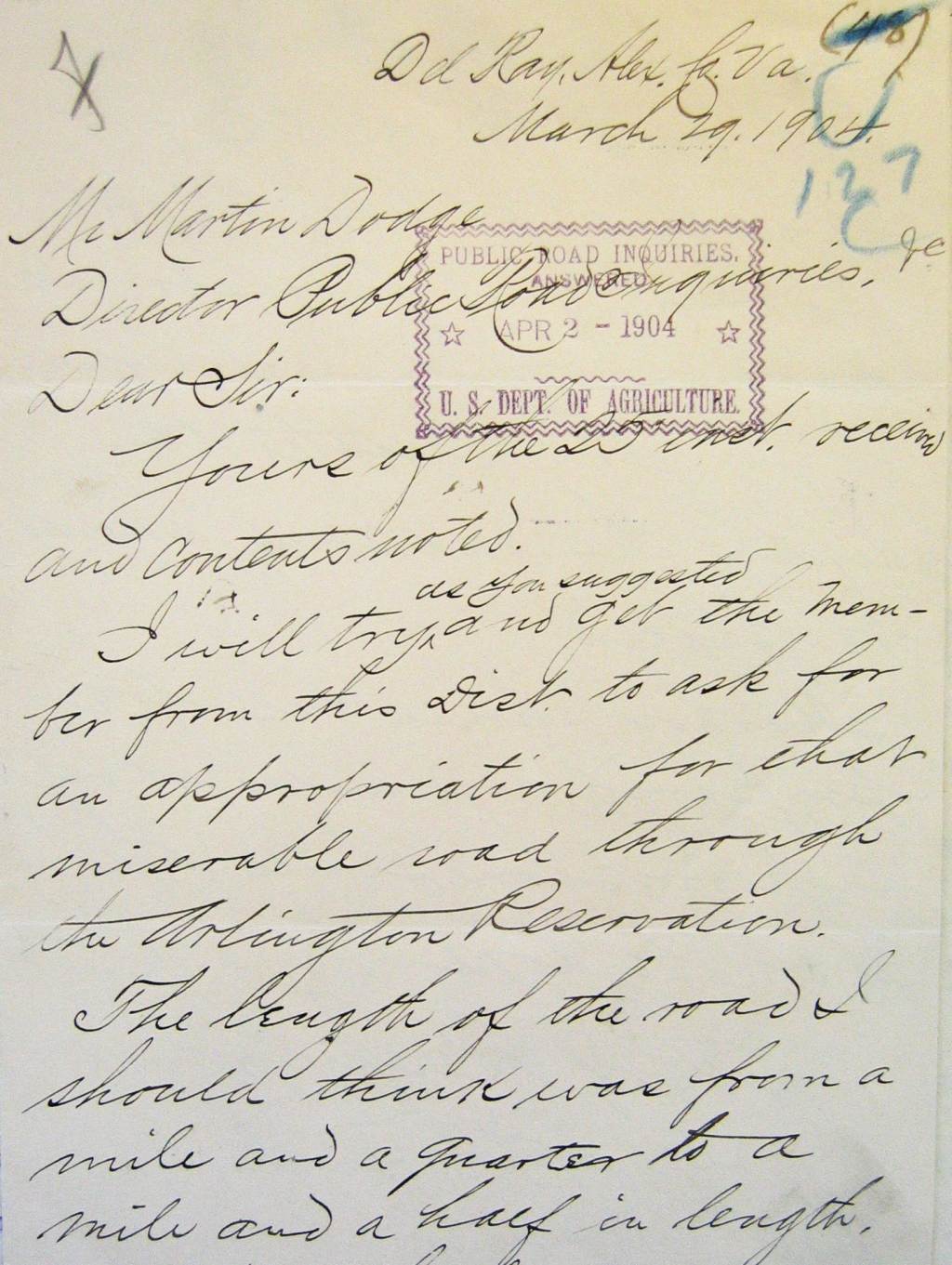 George could be cranky. He commuted to DC "every pleasant day between March and Dec" in his horse-drawn buggy. He was not happy about the state of "that miserable road" that passed by Arlington Cemetery and repeatedly expressed that to the Director of Public Roads.
As a clerk for the War Department the advertisements for the Wood Harmon developments that promised cheap and easy commuting via the new electric railway must have been appealing. On 8 June 1895 he purchased lots 158-161 of the Del Ray development and immediately commissioned William T Taylor of St Elmo to put up a large, handsome house on the eastern portion of the lot. Taylor was a fast worker, for George was able to move into his new house on 17 August, a little over two months later.
His early years in Del Ray were apparently happy ones, for he purchased additional property in 1901, two lots to the west of his current house, giving him 150 feet of frontage on Howell, with his house on the far eastern end, and four contiguous lots behind those on the northern side of the 300-block of Bellefonte.
By that time, however, he was in his late 50s and the commute was probably getting tiresome. In September 1907 he offered his house for sale but apparently no suitable offers were forthcoming and he decided to remain. Fannie developed chronic interstitial nephritis around 1914 and on 4 October 1916 she suffered a cerebral hemorrhage and passed away at age 71. The big house was now superfluous and in 1919 he sold it and the four easternmost lots to Ira and Ida Davis. George continued to work at the War Department as a clerk into the 1920s, finally retiring to Los Angeles where, surprisingly, he wed again at around age 80.
Enter The Robertsons - for 37 Years

Ira Davis worked at the shipyard and both he and his wife were 40 when they bought the house. They had two daughters, Ruth and Virginia, and two sons, Aldine and Hugh. Their stay was brief, selling the house in 1920 to brothers William C and Joseph H Robertson, the former 41 and the latter 32 years old.
Unusually, the brothers were married to a pair of sisters, daughters of Edgar and Emma Chewning of Spottsylvania County. William had married Mary when he was 33 and she 29; while Joseph married Lillie Brooke (she used either name as it suited her) at 24 and her at 22. They married separately, but at about the same time in mid-1911.
They moved to DC, where they worked as machinists at the Navy Yard. There they both registered for the draft in 1918, Joseph claiming a deferment for having a wife and two children. Joseph bought a house on East Capital Street and William and Mary moved in as well.
Cranky he may have been, but he did have good taste in houses. His slightly-quirky folk-Victorian is beautifully preserved at 311 E Howell. The porch had been enclosed in the 1960s, but has since been mercifully opened up again.
Joseph bought in Del Ray in 1920, coincident with his taking a job at the Torpedo Factory, with William following suit. The two families quickly set up house, with William and Mary remaining childless, while Joseph and Lillie had son Joseph Jr (born 1913), daughter Frances (1915), daughter Emma (1918) and son Richard (1920). Joseph Jr moved away in the late 1930s, eventually winding up in Alabama. Frances married Godfrey Runaldue in March 1936, and they moved to Luray Avenue, both working as federal government clerks.
Thus, by 1940 the household consisted of Joseph and Lillian, daughter Emma and son Richard; and William and Mary. Tragedy struck in July 1944. William's wife Mary attempted suicide; she would have survived except for a previously-undiagnosed haemorrhagic diathesis. She died a week later in Alexandria Hospital.
Emma Robertson (center) in the Del Ray Baptist Church choir.
In the meantime Emma had started work, first as a switchboard operator and then as a clerk, for a variety of employers, mostly the American Red Cross. She never married and continued to live at the Robertson house on Howell. Richard trained as a draftsman and went to work first for the US Army Map Service then for commercial drafting companies. He moved about in the area, marrying Frances Anthony in 1951 and by the early 1950s had moved into 314 E Howell, diagonally across the street from the home he grew up in.
William, the elder brother, passed away of a heart attack in August 1955 at age 781.
With the death of William, Joseph and Lilly sold the house in July 1957 to Joseph and Jeanette Ellis and moved to an apartment at 203 East Glebe, taking Emma with them. That marked the end of 37 years of the Robertsons in the house. Joseph did not spend much time at the new home, being felled by a cerebral hemorrhage that December at 71. At the same time Richard also moved out of the neighborhood, to 19 Rosecrest.
1 Interestingly, William's will gave everything not to his brother, but to his sister-in-law Lillie and, failing her, to his nephews and nieces.