311 Clifford - Hollis Clark House
This is a well-preserved classic brick-face bungalow built 26 feet wide and 34 feet deep, with a full-width front porch seven feet deep. It features a fireplace in the living room flanked by two very nice diagonally-paned windows. A discreet extension has been added to the rear that does not detract from the overall cleanliness of the design. It sits on an oversize lot which, unfortunately, makes it a target for those who tear down such structures.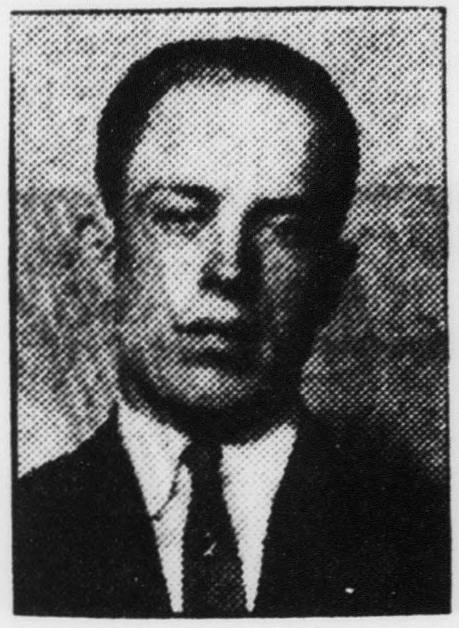 Hollis and Kaddy Clark bought the this house from James Cato in January 1927. They had married in October 1926 and Hollis was a patrolman in the 2nd Division of the DC Police when he and 17 other DC police were indicted by the federal government on brutality charges in October 1931. He and a partner were placed on trial on 10 January for beating a young black prisoner to confess to being a member of a house-breaking gang. The Evening Star covered the trial every day, often on the front page; the Post ignored it. Clark took the stand to forcefully deny the charges on 25 January 1932 and the trial concluded on the 28th. On that day the jury deliberated for only an hour before delivering not guilty verdicts.
Hollis Clark's 1931 indictment photo
In the house they raised son Donald, born in September 1931, and daughter Carolyn in November 1936. The indictment and trial do not seem to have hurt Clark's career, as he was hired as a uniformed Secret Service member assigned to the White House and that apparently permitted him to sell 311 Clifford in May of 1938 and move to the larger 1604 Russell Road. As an aside, while Hollis died in 1979, Kaddy lived to be 101, passing away in February 2003.
The new owners held onto it for only three months before selling it William and Clara Mae Koch. William was a wholesale bakery salesman who moved first from Pennsylvania to DC, where he married Clara Mae Devine in 1936, before buying the house on Clifford. By 1940 William, 31, was putting in 40 hours a week selling for the Loose-Wiles Buiscuit Co (later Sunshine Biscuits), while Clara Mae, 25, put in the same as a stenographer for a manufacturing company. To help make ends meet they took in John and Maryanne McComas as lodgers.
In July 1943 William enlisted in the US Navy and was discharged in November 1945 as a storekeeper second class. They then had two children before selling the house in July 1949 to return to Pennsylvania.
Ervin and Maria Mullin were the buyers, although Ervin passed away in June 1950 at age 55. By 1953 she had remarried, to William Brieling, a brakeman for the RF&P. William died of lung cancer in 1959 at age 61. Maria, again widowed, remained in the house until selling it in October 1969.