307 Clifford - The Cato/Fairfax House
This is the beautiful brick American four-square with a footprint 25 feet wide by 26 feet deep. It had full-width porches on the front and back. The first floor featured a living room, dining room and kitchen, the first two with hardwood floors and the kitchen with vinyl. The second floor had three bedrooms and a bathroom. All walls were plaster, except in the unfinished basement.
The start of the depression was a lousy time to try to sell a house, so James and Vanetta held onto this house for a few years after moving, renting it to Edward and Kathleen Beavers. When it became clear that they could probably not wait out the problem they sold it to Rozier and Edith (nee Davis) Fairfax in May 1931, with the Fairfaxes taking out a mortgage for $4,000. The house thus began its second turn as a home.
Rozier and Edith had married in Prince William in 1906, him 23 and she 24. They moved to Lee in Fairfax in 1929, and then to Alexandria in 1931. He was a farmer by trade, taking up gardening for the USDA after moving to Del Ray. He must have had quite the commute for the time, as he listed his place of employment as the USDA facility in Beltsville in 1942. They had three sons, Carroll (b 1908), Douglas (b 1913) and Worden (b 1915).
All three sons lived with Rozier and Edith through 1940, Carroll working as a clerk for the railroad, Douglas with his father at the USDA, and Worden as a clerk in the shipping department of Woodies. Douglas was the first to leave, marrying Helen Dailey in September 1940 and moving to western Virginia. In August 1942 Carroll married Sarah Boyce and they moved to Wesmond Drive in Alexandria. Worden joined the Army in June 1941, and married Lucille Marie Frank that October before deploying. Thus, by early 1942 Rozier and Edith had the house to themselves, although Carroll, still working as a clerk for the railroad, and Sarah remained in town.
In March 1945 the Evening Star noted that

On D-day Pfc Worden Fairfax of Alexandria hit the Normandy beachhead. Three days later shrapnel struck him in the right arm above the elbow. Six weeks ago he was discharged from the Army with an artificial arm, a newly won ability to write with his left hand and a desire to help his former buddies.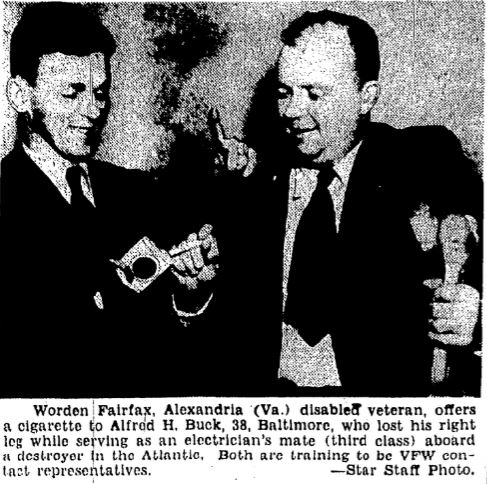 Evening Star photo of 1945, Worden on left.
He had been flown back to LaGuardia in NYC on 15 July 1944 then moved to Walter Reed for further procedures. After his discharge he and Lucille moved back into the home with his parents while he continued his rehabilitation and worked with the VFW as one of their first contact liaisons for wounded veterans. He got a full-time civilian job with the Army and moved the short distance to West Windsor Avenue in 1946.
Rozier passed away in November 1951, age 69. Edith stayed on in the house until it got too much for her and in September 1964 she sold it to Thomas and Mamie Chambers, who took out mortgages for $16,200. Edith moved in with Worden and Lucille on 602 West Windsor Avenue. In failing health she was moved to a nursing home and soon thereafter died in April 1975 at age 93. The parents are buried together at Pohick Episcopal cemetery.