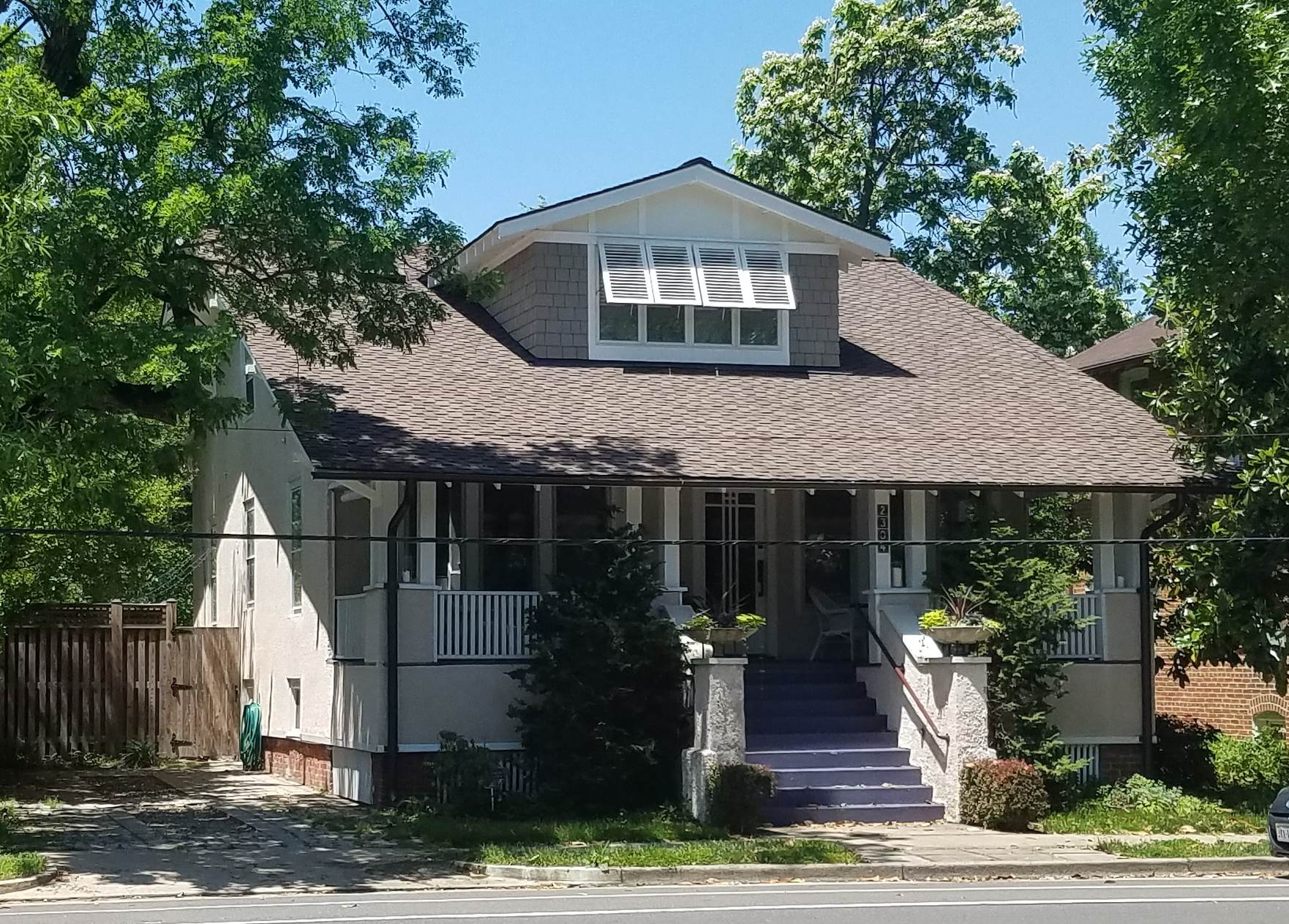 The beautifully preserved gem of early bungalows at 2304 Commonwealth.
The American bungalow started in California and took off in the rest of the country in 1915-1920. This house is an exceptionally beautiful version of a very early east coast bungalow, notably tending to be wider and lower than the later incarnations. In 1916 the house was purchased by James Groves, the owner of Mt Ida, and he turned around and sold it the next year to Walter and Effie Clements, who would be the first owner-occupiers. At the time both were 30 years old and they had a two-year-old daughter Emma. Walter was a locomotive engineer with an income in 1920 of $2,175, which allowed him to own a 16-hp 1915 Briscoe, a short-lived automobile make of the time.
In 1923 they moved to North Harvard Street and sold the house to Samuel and Ella Rhea. Samuel had been born in 1864 in rural Rockbridge County and worked as a farmer before marrying Ella Rowzie, 13 years his junior, in 1899. They had four children, two of whom died as infants, leaving Howard, born in March 1903 and Mildred, born December 1908. Samuel retrained as a stonemason and they moved north, first to Loudon County, and then across the river to Indian Head, MD. His aunt was Mrs E.D. File of Del Ray, so he was familiar with the area and apparently work was good, for they were able to purchase the Clements house in 1923, although shortly after that Howard, who had trained as an electrician, moved to Montgomery County, in southwestern Virginia. He married in March 1928 but six months later was burned to death in a gas explosion in a mine.
Assuredly heartbroken, Samuel, Ella and Mildred lived in the house for fifteen years. Samuel passed away in February 1938, which would not have been a surprise, since he was 74 years old and had suffered from heart disease for ten years. More surprising was the death only eight months later of Ella, also of heart disease, age only 60. By that point Mildred had married William J Sims, they living in her parents's house. With Ella's death they moved out and rented the house out to Salvia Ramsey, a brickmason from North Carolina, along with his wife Mabel and three children.
By 1942 William and Mildred Sims had moved back into the house but by 1945 problems seem to have arisen and only Mildred was living there. There then followed a three-part land deal that saw the property transferred from Mildred and William to her cousin Gordon Rowzie, then back to her alone in 1946. This was a common tactic to irrevocably change ownership from a married couple to just one spouse and usually signaled an imminent separation or divorce. After living there another six years Mildred sold the house in April 1952 to broker MJ Manning, just a little short of 30 years there.